FOR IMMEDIATE RELEASE: October 5, 2022
Contact: Sammy Cummings, 907-888-5671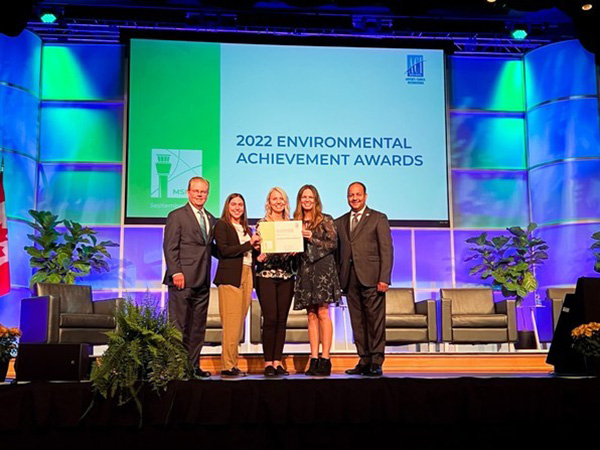 FAI Environmental Manager, Elise Thomas, FAI Airport Director, Angie Spear, and Alaska DOT&PF PFAS Program Manager, Sammy Cummings, pose with ACI-NA representatives at ACI-NA's annual conference in Minneapolis, MN.
Fairbanks International Airport Named Recipient of ACI-NA 2022 Environmental Achievement Award
(Fairbanks, AK) - Fairbanks International Airport received top honors for their environmental work on per- and polyfluorinated substances (PFAS), used in fire-fighting activities at airports. The Airports Council International – North America (ACI-NA) named Fairbanks International Airport (FAI) as one of five recipients to their 2022 Environmental Achievement Award in the Mitigation category last week. The ACI-NA Environmental Achievement Award recognizes work to protect and preserve the environment through airport programs and policies.
The goal of FAI's PFAS program is to identify and mitigate the risk to human health. The department used the FAI program as a framework at other airports throughout the state's aviation system. The FAI program included innovative pilot studies, private well searches, sampling efforts, community outreach, and site characterization efforts to investigate and identify plume boundaries.
"FAI's experience has been instrumental to DOT&PF's implementation in addressing PFAS across the aviation system," said DOT&PF Commissioner Ryan Anderson. "Fairbanks International Airport has been a leader in creating innovative programs, becoming nationwide experts in mitigating PFAS."
ACI-NA is a trade association representing commercial service airports in the United States and Canada. The annual Environmental Achievement Awards were established by the ACI-NA Environmental Affairs Committee which presents five awards in the categories of Environmental Management; Outreach and Communication; Innovation: Mitigation; and Environmental Improvement. Award submissions are judged based on environmental benefits, innovation, effective implementation, widespread applicability and cost-effectiveness.
"To say I am proud of our team at FAI would be an understatement," said FAI Airport Director, Angie Spear. "The dedication and compassion they continue to demonstrate while navigating this complex subject is admirable. Their willingness to share their expertise and coordinate with colleagues around the state has been essential to the success of the department's statewide program."
To learn more about ACI-NA's environmental awards visit: https://airportscouncil.org/press_release/airports-council-announces-winners-of-2022-environmental-achievement-awards/
To learn more about the Alaska Department of Transportation and Public Facilities PFAS investigations visit: https://dot.alaska.gov/airportwater/
###
---
About Fairbanks International Airport
Fairbanks International Airport is the gateway to Alaska's interior and Denali National Park. It's one half of the Alaska International Airport System and serves more than a million passengers annually. Equipped to handle any size and type of aircraft, anytime, with state-of-the-art landing systems and terminal facilities. Accounts for 1 in 20 jobs for a total of 1,900 jobs in Fairbanks.
About DOT&PF
The Alaska Department of Transportation and Public Facilities oversees 237 airports, 9 ferries serving 35 communities along 3,500 marine miles, over 5,600 miles of highway and 839 public facilities throughout the state of Alaska. The mission of the department is to "Keep Alaska Moving through service and infrastructure."
###