FAI Departments
Wildlife Services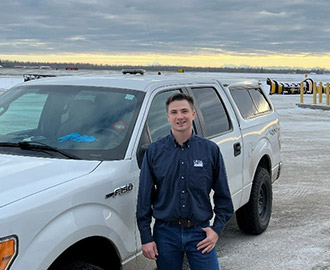 Cole Suckow, FAI Wildlife Biologist
907-483-3707
cole.suckow@alaska.gov
My name is Cole Suckow and I'm a Wildlife Biologist with USDA's APHIS Wildlife Services Program.   Wildlife Services' mission is to provide Federal leadership and expertise to resolve wildlife conflicts to allow people and wildlife to coexist. In collaboration with FAI's Airport Operations Department, our goal is to reduce bird and wildlife strikes to the aircraft that fly in and out of FAI.
Bird and wildlife strikes are a very real threat that have the potential to cause catastrophic damage to aircraft and risk the safety of the crews and passengers that utilize FAI.
I hold a Bachelor of Science degree in wildlife ecology from the University of Wisconsin Stevens Point.  Throughout my career with Wildlife Services I have been involved in the wildlife management programs at Ft. Wainwright, Eielson Air Force Base, and the Juneau International Airport. Additionally, I've had the opportunity to assist with a variety of agency projects throughout the nation including; assisting in the development and research avian repellents, assisting with African Swine Fever biosecurity measures in the US Virgin Islands and Puerto Rico, and the facilitation of salmon recovery efforts in the Columbia River.
I hope to bring the experience and skillsets I've acquired from all these projects to the Fairbanks International Airport's Wildlife Hazard Management Program.  I look forward to working with all of the great staff, tenants, and WILDLIFE at FAI!