Office of the Commissioner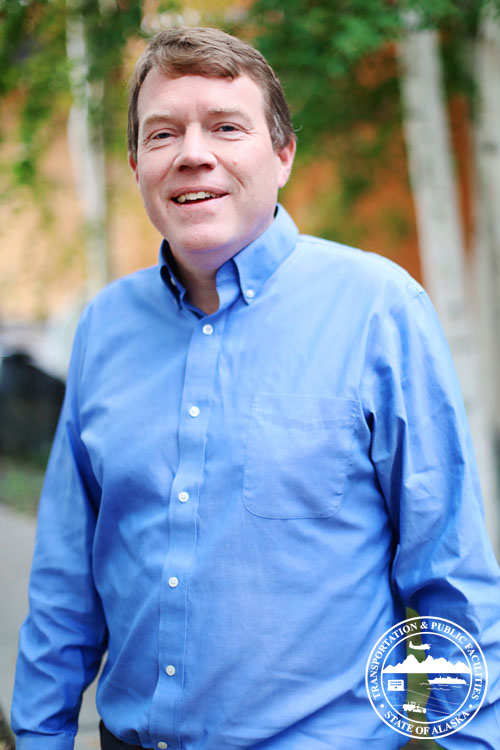 Ryan Anderson, P.E.
Commissioner
Alaska Department of Transportation & Public Facilities
P.O. Box 112500
3132 Channel Drive
Juneau, Ak 99811-2500
Ryan Anderson, P.E., serves as commissioner of the Alaska Department of Transportation & Public Facilities. Under his direction, the department is responsible for the planning, design, construction, and the maintenance and operation of Alaska's transportation system, public buildings and facilities. He believes that a sound transportation system is a foundation for community vitality, and that connecting people and cultures through infrastructure provides economic opportunities that improve people's lives. He most recently served as the Director of DOT&PF's Northern Region.
Since moving to Alaska in 1993 to attend the University of Alaska, Fairbanks, Anderson has worked both in mining and transportation, with his transportation career beginning in 2000 as an entry level engineer for DOT&PF. Since then, Anderson has worked through the ranks designing and managing road and airport projects, with a focus on improving transportation in rural Alaska.
Since receiving his Alaska Civil Engineering license in 2003, he received recognition for transportation excellence and innovation from the Northwest Arctic Leadership Team, WASHTO, FAA, FHWA, and the Alaska Society of Engineers, Fairbanks Chapter. He is currently a member of the AASHTO Council on Highways and Streets.
---
Deputy Commissioners



Katherine Keith


Deputy Commissioner




Vacant
Deputy Commissioner