FAI Firefighting Operations
Airport Police and Fire Officers (APFOs) are State Certified Firefighter I, Firefighter II and Aircraft Rescue Firefighters whom provide all aircraft and structural firefighting functions for the Fairbanks International Airport and routinely assist other state and local fire agencies within Fairbanks and surrounding area. APFOs are the primary response to all aircraft incidents / accidents on or near FIA. Airport Police and Fire will respond automatically with mutual aid agencies to any aircraft accident occurring off of the airport.
In addition to fire suppression duties APFO's perform several fire related public safety duties. APFO's are responsible for emergency medical response, water rescue, hazardous materials response, aircraft fueling safety inspections, fire extinguisher inspections and training, public fire safety tours and tenant and public fire safety training. APFO's provide numerous fire safety presentations each year to area public schools, day cares, private schools, and community organizations.
• Fire Training and Certification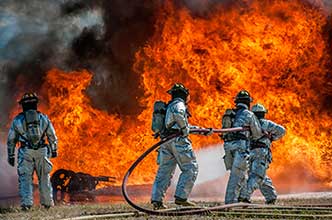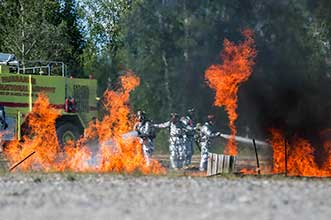 CLICK IMAGES FOR LARGER VIEW