FOR IMMEDIATE RELEASE: December 2, 2021
Contact: Amanda Stonecipher, 907-474-2582
Fairbanks International Launching Hidden Disabilities Sunflower Program on Dec. 15
(Fairbanks, AK) - It's easy for airport employees to lend a hand to travelers with visible cues of a disability like a passenger in a wheelchair. But there are other "hidden disabilities" that are less apparent such as autism, Crohn's disease, dementia, hearing impairment, multiple sclerosis, PTSD, and many more! According to the Centers for Disease Control (CDC), 26 percent of American adults have some type of disability, many of them not visually apparent.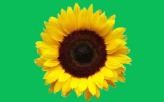 In order to better meet the needs of all travelers with disabilities, Fairbanks International Airport (FAI) is launching the Hidden Disabilities Sunflower Program beginning December 15, 2021. Travelers with hidden disabilities may voluntarily request a sunflower lanyard or wristband to let airport staff know that they may need a little help or extra patience. Passengers may request free Sunflower lanyards or wristbands at participating partner locations: Alaska Airlines ticket counter, AVIS Car Rental desk, Delta Air Lines ticket counter, or at the FAI Administration Office during normal business hours. FAI Administration Offices are open Monday- Friday, 8 a.m. to 5 p.m., excluding holidays. The Transportation Security Administration (TSA) security checkpoint is a non-distribution point participating partner recognizing the Sunflower Lanyard Program as well.
The Hidden Disabilities Sunflower Program first started in 2016 at Gatwick Airport in Great Britain. Since the program's launch, more than 85 airports across the globe have joined the program, with more to come in 2022. A full list of participating airports may be found at: https://hiddendisabilitiesstore.com/us/insights/post/airports-around-the-world. FAI is pleased to join so many others in the program!
Please note the Sunflower lanyard program does not authorize special privileges to the wearer or travel party. The program is designed only to signal to others additional help or extra patience may be required. Travelers should continue to coordinate with their airlines and/or TSA Cares (1-855-787-2227) for pre-travel questions and accommodation arrangements.
Any questions, comments, or concerns regarding the launch of FAI's Hidden Disabilities Sunflower Program can be directed to FAI's Safety Officer and ADA Coordinator, Amanda Stonecipher, at 907-474-2582 or amanda.stonecipher@alaska.gov.
###
---
About Fairbanks International Airport
Fairbanks International Airport is the gateway to Alaska's interior and Denali National Park. It's one half of the Alaska International Airport System and serves more than a million passengers annually. Equipped to handle any size and type of aircraft, anytime, with state-of-the-art landing systems and terminal facilities. Accounts for 1 in 20 jobs for a total of 1,900 jobs in Fairbanks.
About DOT&PF
The Alaska Department of Transportation and Public Facilities oversees 235 airports, 10 ferries serving 35 communities, more than 5,600 miles of highway and 731 public facilities throughout the state of Alaska. The mission of the department is to "Keep Alaska Moving through service and infrastructure".
###