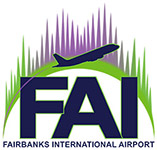 Alaska International Airport System
Fairbanks International Airport
6450 Airport Way
Fairbanks, Alaska 99709
Main: 907-474-2500
Fax: 907-474-2513
---
FOR IMMEDIATE RELEASE: November 9th, 2023
Contact: Zak Mitchell, 907-474-2596
Holiday Travel Tips from FAI
(Fairbanks, AK) - With the holiday season approaching, the Fairbanks International Airport is recommending airport travelers prepare for heavier traffic, fully occupied parking, and longer wait times at check-in and security screening. Due to this increase in airport traffic, FAI recommends travelers use the following travel tips to make their commute a little less stressful.
Arrive Early
Monitor your flight status with your airline. Arrive early to allow yourself ample time to check-in, account for unexpected delays and navigate the security checkpoints without feeling rushed. When you arrive early you can browse the airport shop, eat a meal, and pickup last minute gift items for your loved ones.
Consider Alternative Transportation
Airport Parking is first come first serve and can fill to capacity during the holidays. If you don't want to risk it, travelers can also use ride share, Uber and Lyft, or taxi services to and from the airport. It is recommended that passengers schedule their pickups at least 3 hours in advance up to days in advance.
If you park at the airport, please plug in your vehicle. Fairbanks experiences subzero temperatures that can freeze car fluids and drain batteries. It is highly recommended to plug in your car before leaving for an extended trip, ensuring that your vehicle remains warm and ready to start when you return.
Prepare for TSA Security Screening
To efficiently move through the screening process please have your boarding pass and ID ready. Boarding passes can be claimed at your airlines ticket counter or on your mobile device after successfully checking in. To further expedite this process passengers can apply for TSA Pre-check for domestic flights or obtain it as a package with Global Entry for international flights.
Please visit TSA for additional helpful holiday travel hints at https://www.tsa.gov/precheck
Have Fun
Make the most of your holiday trip by embracing new experiences, enjoying the local culture, and creating unforgettable memories filled with joy and laughter.
###
---
About Fairbanks International Airport
Fairbanks International Airport is the gateway to Alaska's interior and Denali National Park. It's one half of the Alaska International Airport System and serves more than a million passengers annually. Equipped to handle any size and type of aircraft, anytime, with state-of-the-art landing systems and terminal facilities. Accounts for 1 in 20 jobs for a total of 1,900 jobs in Fairbanks.
About DOT&PF
The Alaska Department of Transportation and Public Facilities oversees 237 airports, 9 ferries serving 35 communities along 3,500 marine miles, over 5,600 miles of highway and 839 public facilities throughout the state of Alaska. The mission of the department is to "Keep Alaska Moving through service and infrastructure."
###