FOR IMMEDIATE RELEASE: June 23, 2022
Contact: Kevin Alexander, 907-322-5224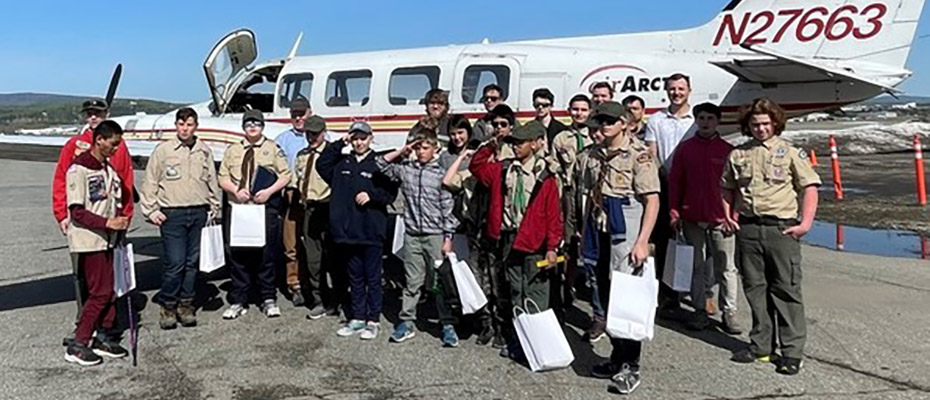 Photo provided by Melissa Osborn
Local Airport Business Community Assists Twenty Interior Scouts Achieve Aviation Merit Badge
(Fairbanks, AK) - The Fairbanks International Airport Operators' Council (AOC) assists 20 interior Alaska scouts achieve their aviation merit badge on May 21, 2022 at the airport's East Ramp. The AOC would like to thank those who donated time, resources or both affording these scouts the opportunity to achieve this accomplishment.
"Exposing our youth to the aviation industry and showcasing its many facets and career opportunities is an integral part of Fairbanks Aviation Day," said AOC President, Kevin Alexander. "Although we weren't able to host an event in 2022, the AOC wanted to ensure the scouts who were interested had the support to earn their aviation merit badge this year."
In order for scouts to achieve their aviation merit badge they learned about the principles of flight and flying careers from Alaska Airlines pilots, Scott Ilgenfritz and Jeff Boesche. Fairbanks air traffic controllers, Ryan Seelig, Jaden Myers, and Young Mak, and operations supervisor, Matt Collins, provided an overview of air traffic control (ATC) and ATC careers. The group of scouts then performed an aircraft preflight inspection before taking a flight around Fairbanks with Warbelow's Air pilot, Todd Mackinaw, and lastly they built gliders and held a competition in order to test the precision of flight and landing.
The AOC would like to send a specials thanks to Warbelow's Air, Alaska Airlines, the Federal Aviation Administration's Fairbanks Air Traffic Control Tower, DOWL and Nana Management Services.
###
---
About Airport Operators' Council
The Fairbanks International Airport Operators' Council is an organization comprising of directors, managers, and owners of businesses with interest at Fairbanks International Airport. The Airport Operators' Council is an advocate for developing business at FAI and promoting economic growth within the Fairbanks community.
About Fairbanks International Airport
Fairbanks International Airport is the gateway to Alaska's interior and Denali National Park. It's one half of the Alaska International Airport System and serves more than a million passengers annually. Equipped to handle any size and type of aircraft, anytime, with state-of-the-art landing systems and terminal facilities. Accounts for 1 in 20 jobs for a total of 1,900 jobs in Fairbanks.
About DOT&PF
The Alaska Department of Transportation and Public Facilities oversees 237 airports, 9 ferries serving 33 communities along 3,500 marine miles, over 5,600 miles of highway and 839 public facilities throughout the state of Alaska. The mission of the department is to "Keep Alaska Moving through service and infrastructure."
###