FOR IMMEDIATE RELEASE: May 28, 2021
Contact: Kevin Alexander, 907-322-5224
Fairbanks International Airport Operators' Council Announces 2021 Scholarship Recipient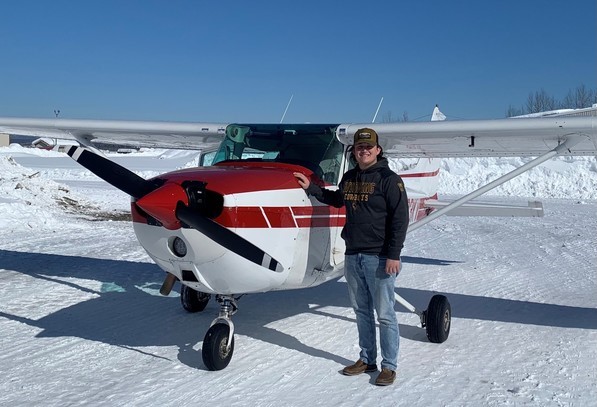 Picture courtesy of Jake Golden
(Fairbanks, AK) - The Fairbanks International Airport Operators' Council (AOC) announces Jake Golden as their 2021 scholarship recipient. Golden, a recent graduate of West Valley High School, will be attending University of Alaska Anchorage beginning fall 2021 where he will be pursuing a Bachelor of Science in Aviation Technology with an emphasis in Professional Piloting.
After Golden completes his degree program, he plans to stay in Alaska and further his aviation career. He hopes to build flight time working with regional carriers based in Alaska. His ultimate, long-term goal is to work for a major airline.
Golden was elected class president his junior year in high school, commanding officer for the Junior Reserve Officers' Training Corps, and All-Conference 1st Team and All-State 2nd Team for football. He enjoys hunting and going on road trips with his family, as well as plane spotting and collecting model airplanes. Golden hopes to own his own aircraft one day such as a Super Cub or a Maule Orion. Golden plans to utilize that aircraft to experience rural Alaska not accessible by road or trail.
The AOC is thrilled to award this $2,000 scholarship to Golden to aid him in making his dream a reality, congratulations!
About Airport Operators' Council
The Fairbanks International Airport Operators' Council is an organization comprised of directors, managers, and owners of businesses with interest at Fairbanks International Airport. The Airport Operators' Council is an advocate for developing business at FAI and promoting economic growth within the Fairbanks community.
###
---
About Fairbanks International Airport
Fairbanks International Airport is the gateway to Alaska's interior and Denali National Park. It's one half of the Alaska International Airport System and serves more than a million passengers annually. Equipped to handle any size and type of aircraft, anytime, with state-of-the-art landing systems and terminal facilities. Accounts for 1 in 20 jobs for a total of 1,900 jobs in Fairbanks.
About DOT&PF
The Alaska Department of Transportation and Public Facilities oversees 235 airports, 10 ferries serving 35 communities, more than 5,600 miles of highway and 731 public facilities throughout the state of Alaska. The mission of the department is to "Keep Alaska Moving through service and infrastructure".
###