FOR IMMEDIATE RELEASE: May 24, 2022
Contact: Kevin Alexander, 907-322-5224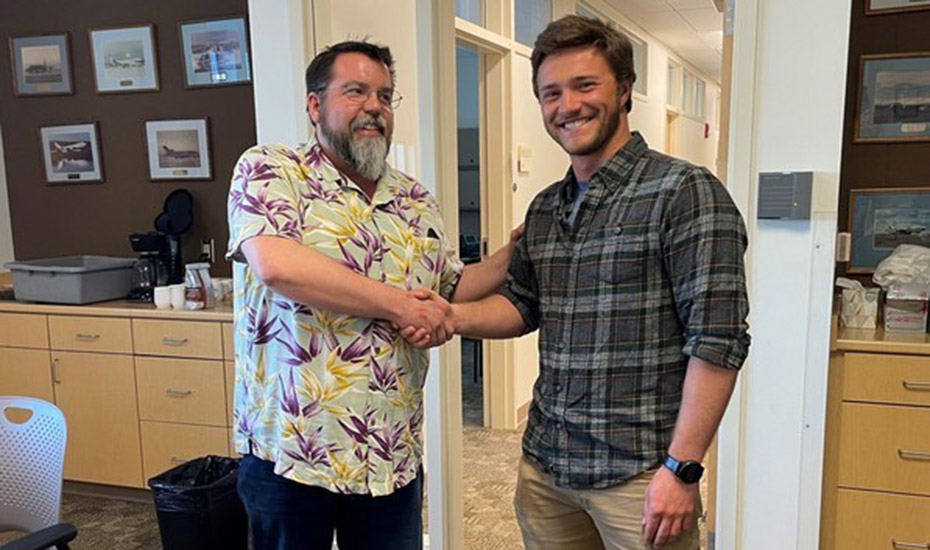 Photo (Left to Right): AOC President, Kevin Alexander, presents Brian Grams with the 2022 scholarship.
Fairbanks International Airport Operators' Council Announces 2022 Scholarship Recipient
(Fairbanks, AK) - The Fairbanks International Airport Operators' Council (AOC) announces Brian Grams as their 2022 scholarship recipient. Grams is currently enrolled in the University of Alaska Fairbanks' Associate of Applied Science, Aviation Maintenance program.
After Grams completes his degree program this fall, he plans to stay in Alaska and combine his passion for outdoors and traveling with his career. He hopes to find himself working for a regional carrier either local to Fairbanks or in rural Alaska, preferably with a helicopter contractor.
Grams, a private pilot originally from Glennallen, Alaska, also holds a Bachelor of Science degree in Geography with a concentration in Landscape Analysis and Climate Change and a minor in Geographic Information Systems. He graduated Cum Laude from the University of Alaska Fairbanks. Once Grams has had the opportunity to work, travel and broaden his knowledge on newer aviation technology he can see himself settling in Fairbanks and opening his own business.
The AOC is thrilled to award this $2,000 scholarship to Grams to aid him in making his dream a reality. Congratulations, Brian!
###
---
About Airport Operators' Council
The Fairbanks International Airport Operators' Council is an organization comprising of directors, managers, and owners of businesses with interest at Fairbanks International Airport. The Airport Operators' Council is an advocate for developing business at FAI and promoting economic growth within the Fairbanks community.
About Fairbanks International Airport
Fairbanks International Airport is the gateway to Alaska's interior and Denali National Park. It's one half of the Alaska International Airport System and serves more than a million passengers annually. Equipped to handle any size and type of aircraft, anytime, with state-of-the-art landing systems and terminal facilities. Accounts for 1 in 20 jobs for a total of 1,900 jobs in Fairbanks.
About DOT&PF
The Alaska Department of Transportation and Public Facilities oversees 237 airports, 9 ferries serving 35 communities along 3,500 marine miles, over 5,600 miles of highway and 839 public facilities throughout the state of Alaska. The mission of the department is to "Keep Alaska Moving through service and infrastructure."
###