This byway has many breathtaking views as you travel the 14.7 miles of Walden Point Road from Annette Bay to the community of Metlakatla. Waterfalls are plentiful, and some beautiful creeks that support fish spawning. Sitka Blacktail deer are a common sight along the muskeg side of the road as well as occasional sightings of Alexander Archipelago Wolf traveling quickly back into the forest. The road travels along the edge of the forest and overlooks the ocean giving incredible views stretching far off into the distance, it is possible to see Gravina Island, Prince of Wales Island, the Percy Islands and off across the vast ocean when the weather is clear. Chester Bay and all the islands in it are stunning especially in the summer when you can watch the salmon gillnet and seine fleet at work.
Annette Island Reserve (AIR) began in 1887 when a Tsimshian population migrated from British Columbia with their beloved spiritual leader missionary William Duncan to form what is now known as the Metlakatla Indian Community (MIC). In 1891, the island was officially recognized as a Federal Indian Reserve It is the only Indian Reserve in the State of Alaska.
Annette Island is approximately 130 square miles of land; approximately 21 miles long by 10 miles wide. All of the land on AIR remains in MIC ownership. . There are approximately 1,400 members who live on the island of whom are mostly are of Tsimshian decent. The community government leases lots for residences and commercial ventures. The work of building Walden Point Road began in 1998. The Department of Defense military completed Walden Point Road early in 2010 in an "innovative readiness training" program. The completion of the road increases access to much of the central part of the island, previously only accessible through old logging roads.

The Walden Point Road and future Alaska Marine Highway services will provide a much needed boost to the community's economy, which currently includes salmon commercial fishing, seafood processing, an Indian casino and tourism. The new road also will provide residents access to Ketchikan's hospital and medical facilities, shopping, and other services necessary for a comfortable lifestyle. A consistent daily schedule and a shorter ferry route will open up opportunities for workforce placement, college education, and even access to recreational facilities, while allowing Metlakatla residents to remain in their own community.
En route from Annette Bay to Metlakatla
Scenic views from Annette Bay to Ketchikan as well as other local landmarks and fishing spots such as China town, Walden Rocks, and Japan Bay.
Pullouts along the route provide ample opportunity to enjoy these sights which may include humpback whales, porpoises, eagles and other wildlife.
Closer to Metlakatla the views will include the Dall Islands at the south end of Gravina Island, Prince of Wales Island, the Percy Islands, the peninsula of Annette Island which is where the Metlakatla Indian Community resides.
At your Destination, Metlakatla
Convenience stores for last minute items, a gas station and other local amenities.
You can drive the 7 mile road which ends at an old FAA runway and take the various side roads to different beaches. Mossy Point beach provides a great view of the south end of the island
You can kayak or canoe Tamgas Bay which has a breathtaking view of the island largest mountain, Mt. Tamgas.
Several walking and hiking trails of varied difficulties – Skater's Lake Trail, the hike up Yellow Hill with its incredible panoramic views, Sand Dollar Trail, Scout Lake Trail, Russell Hayward Memorial Park and the New Breakwater Park.
Local beaches can be used for daytime picnicking, beachcombing and berry picking.
Historic sites can be seen at the end of Point Davison road are two gun turrets left from the WWII military presence, the William Duncan Memorial Church, the Metlakatla Presbyterian Church and the Metlakatla Town Hall are the oldest establishments on the reservation; the Metlakatla Longhouse has beautiful hand carved totem poles and is used for both Native dancing and ceremonies; and the William Duncan Museum (to date the only building on the Historic Register of Historic Places) which is located downtown gives historical information about the migration and the town of Metlakatla.
It is recommended that you bring your own transportation but a local vendor does offer rental car service.
Metlakatla has a Bingo/Gaming Hall that is open every day of the week except Sunday from 12:30pm -1am with electronic bingo machines.

July 4th
Annual parade with local prizes and participation, Vendors have booths set up at the Russell Hayward Memorial Park and sell food, trinkets and other assorted wares while field events such as running races, slow bike race, watermelon eating and others are going on.
August 7th
Annual Founders Day Celebration. A parade with a Pioneer Theme that ends at the Russell Hayward Memorial Park where field events will go on all day, they will include running races, egg toss, tug of war, canoe race and more. Vendors provide food as well as other wares for all in attendance.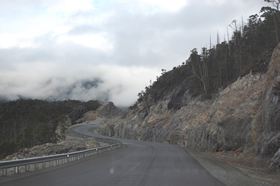 Metlakatla Indian Community
Business Office
8th and Milton Street
907-886-4441
Please contact MIC for your fishing, hunting, and visitor permits during normal business hours 8am-4:30pm.
Artist Village
Lacey Dundas-Gonzales
Frank Hayward Breakwater Road
907-886-8687
House of the Wolf
Jack Hudson
907-886-4923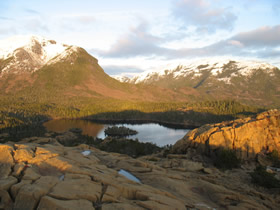 Questions about the Scenic Byways web site?

dot.scenic.byways@alaska.gov