Completed in 1923, the Alaska Railroad's main line extends from tidewater at Seward north to the Interior city of Fairbanks, about 470 miles of track.
Operating year-round passenger service between Anchorage and Fairbanks, the Alaska Railroad also offers service via Talkeetna, Denali, Seward and Whittier during the summer. Amenities available (not on all routes) include glass-domed luxury railcars, gourmet cuisine and a wide variety of overnight adventure and sightseeing packages. The Alaska Railroad is one of the last surviving 'flag stop' passenger rail lines in the U.S. - trains that will stop where and whenever passengers want to get on or off.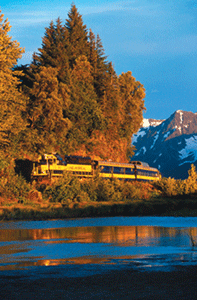 View the Bartlett and Spencer Glaciers within 48 miles of Seward.
A short rail spur tunnels through the rugged Chugach Mountains to Whittier.
Watch for bore tides and beluga whales as the rail runs along beautiful Turnagain Arm.
Now Alaska's largest city, Anchorage began as a construction camp for the railroad in 1914.
Visit the charming town of Talkeetna, the base of operations for climbing expeditions to Mount McKinley.
At Milepost 284 don't look down at Hurricane Gulch!
Denali National Park is the destination of many rail travelers.
Nenana is where President Warren G. Harding drove the golden spike to complete the railroad in 1923.
Disembark in Fairbanks for endless adventure opportunities in Alaska's vast north.

January
Anchorage Folk Festival
Anchorage, 907-566-2334
Polar Bear Jumpoff Festival
Third Saturday in January
Seward, 907-224-5230
February
Yukon Quest Int'l Sled Dog Race
Fairbanks, 907-452-7954
Tesoro Iron Dog Snowmachine Race
Fairbanks, 907-563-4414
Anchorage Fur Rendezvous
Anchorage, 907- 274-1177
March
Iditarod Trail Sled Dog Race
Anchorage, 907-276-4118
World Ice Art Championships
Fairbanks, 907-451-8250
May
Harbor Opening Weekend
Third weekend in May
Seward, 907-224-3160
June
Mayor's Midnight Sun Marathon
Anchorage, 907-276-4118
July
Fourth of July celebrations Regionwide
Golden Days
Fairbanks, 907-452-1105
August
Tanana Valley Sandhill Crane Festival
Fairbanks, 800-327-5774
November
Annual Crafts Emporium
Anchorage, 907-263-2800
December
Annual Holiday Train Ride
(roundtrip Anchorage-Seward)
Anchorage, 800-544-0552

Alaska Railroad
800-544-0552
411 W. 1st Ave. Anchorage, AK 99501
reservations@akrr.com
Anchorage Visitor's Bureau
907-276-4118
524 W. 4th Ave., Anchorage, AK 99501
info@anchorage.net
Fairbanks Convention & Visitors Bureau
800-327-5774
550 1st Ave., Fairbanks, AK 99701
info@explorefairbanks.com
Greater Whittier Chamber of Commerce
PO Box 607, Whittier, AK 99693
Nenana Chamber of Commerce
miles@mtaonline.com
Seward Chamber of Commerce
907-224-8051
PO Box 749, Seward, AK 99664
visitseward@seward.net
Talkeetna Denali Visitor Center
800-660-2688
PO Box 688, Talkeetna, AK 99676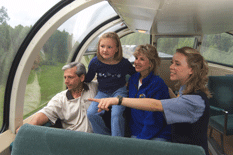 Questions about the Scenic Byways web site? dot.scenic.byways@alaska.gov