The Glenn Highway National Scenic Byway follows a path carved by ancient glaciers. Following the braided Matanuska River for over half its length, this Byway winds through 135 miles of the most impressive terrain on earth.
Winters present you with a splendid sky show when the Northern Lights dance among the snow-capped mountains, while summers bring you endless days to roam in fields of wildflowers and ancient forests.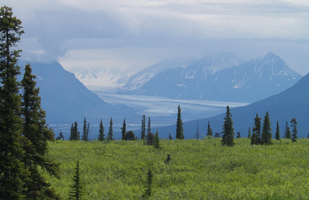 Start your journey in downtown Anchorage, where you soon see the Chugach Mountains that parallel the Byway along its entire route.
Visit the Alaska Native Heritage Center off Muldoon Road, which provides the visitor a glimpse at Alaska's five major Native groups.
Access the 500,000-acre Chugach State Park and its many trails and attractions from Eagle River/ Chugiak.
Eklutna Village Historical Park provides another look into the heritage of the Athabascan Alaska Natives.
Enter historic Palmer and its many colony farms dating back to FDR's 1935 Depression era farming experiment. Palmer comes alive in late August with the annual Alaska State Fair.
You enter the glacier-carved Matanuska River Canyon as you leave Palmer. The historic coal mining community of Sutton provides a look at early 1900 Alaska.
At the Byway's end at Eureka Summit, see four of Alaska's major mountain ranges: the Alaska Range, the Chugach Mountains, the Talkeetna Mountains and the Wrangell-St. Elias Mountains.

January
Anchorage Folk Festival
Anchorage, 907-566-2334
February
Anchorage Fur Rendezvous
Anchorage, 907-274-1177
June
Colony Days
Palmer, 907-745-2880
August
Alaska State Fair
Palmer, 907-800-850-3247


Visit the official website of the
Glenn Highway Scenic Byway Association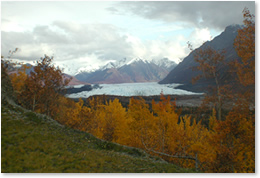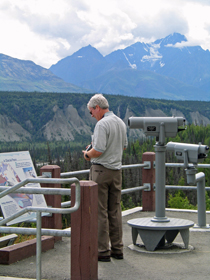 Questions about the Scenic Byways web site?

dot.scenic.byways@alaska.gov