All routes within the Alaska Marine Highway System (AMHS) are, collectively, an All-American Road. The Gulf Coast Route of the All-American Road encompasses the Alaska Marine Highway service in Southcentral Alaska, Kodiak and the Aleutian Islands.
Prince William Sound
The Prince William Sound ferry routes take you through the incredible beauty of the Gulf of Alaska and Lower Cook Inlet. Glaciers and fjords, concentrations of seabirds and marine wildlife may be seen at every turn. The AMHS ferry transits Prince William Sound daily during the summer, linking towns and villages and providing visitors access to a bounty of recreational and sight-seeing opportunities.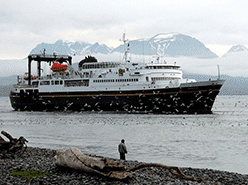 Kodiak & the Aleutians
From the gentle coastal grasslands of its islands to the rumbling snow-capped volcanoes along its shores, Southwest Alaska is a region known for its spirit of adventure. Stretching from Kodiak Island to the Aleutian Chain, it is home to the largest brown bears in the world, as well as walrus, seals, dozens of species of seabirds, giant halibut and plentiful salmon runs. It also has many rich cultural and historical treasures.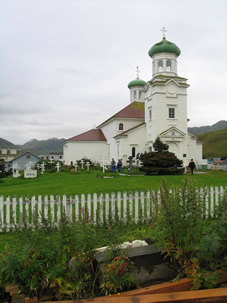 Learn about Prince William Sound's abundant marine life at the Alaska SeaLife Center in Seward.
Sail along the Pacific "Rim of Fire," which traverses the Alaska Peninsula out to the Aleutian Islands.
Ride the ferry to the Marine Highway's westernmost port, Unalaska, bombed by the Japanese during WW II and now home to a large fishing fleet.
Valdez is the terminus of the Trans-Alaska Pipeline and an extreme skier's paradise.
Use Homer as a base to explore or fish beautiful Kachemak Bay.
Make Kodiak your destination for unmatched fishing and outstanding wildlife viewing opportunities. The world's largest carnivore, the legendary Kodiak Brown Bear, calls the island home.
January

Russian Christmas and Starring
Regionwide, January 7-9
Russian New Year & Masquerade Ball
Kodiak

February

Polar Bear Run
Unalaska, 907-581-1297

March

Comfish Alaska
3rd largest commercial fishing show on the Pacific Coast
Kodiak, 907-486-5557

April

Whalefest: A Migration Celebration
Kodiak, 907-486-3737

May

Koniag's Kodiak Crab Festival
Memorial Day weekend
Kodiak
Kachemak Bay Shorebird Festival
Homer, 235-7740

July

Fourth of July celebrations
Regionwide
Mount Ballyhoo Run
Unalaska, 907-581-1297
Bear Country Music Festival
Kodiak, 907-486-7004

September

Kodiak State Fair and Rodeo
Labor Day Weekend
Kodiak, 907-487-4488
Blueberry Bash
Last weekend in September
Unalaska, 907-581-2612

October

Run the Rock Marathon
Kodiak, 907-486-4782
Zombie Run
Kodiak, 907-486-4782

December

Harbor Stars - Christmas Fleet Parade
Kodiak, 907-486-8080
New Years Eve Fireworks
Unalaska, 907-581-1251
Questions about the Scenic Byways web site? dot.scenic.byways@alaska.gov