About the Scenic Byways Program
What is the Alaska Scenic Byways Program?
Alaska established a Scenic Byways program in 1993 to recognize and celebrate some of the most beautiful landscapes in our state. Administered by the Alaska Department of Transportation and Public Facilities, this program also recognizes routes that provide access to our most scenic areas, cultural riches and recreational resources.
Alaska's Scenic Byways start at the local level with a grass-roots byway organization. Once the byway organization applies for and receives scenic byway designation by the state, the route becomes eligible for grant funding to enhance and promote the byway's special qualities. They also become eligible to apply for national designations by the U.S. Secretary of Transportation.
What is the National Scenic Byways Program?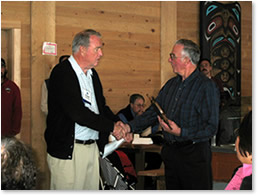 The National Scenic Byways program was created by Congress in 1991. Under the National Scenic Byways Program, the U.S. Secretary of Transportation recognizes certain roads as National Scenic Byways or All-American Roads for their outstanding qualities. "America's Byways are the roads to the heart and soul of America," said Secretary Mineta. "Byways help create a sense of pride in America. They connect us to this country's beauty, history and culture."
Designation as a National Scenic Byway indicates that the route possesses distinctive cultural, historic, natural or other qualities that are unique among neighboring states. Designation as an All-American Road, the higher designation of the two, indicates that the route has not only regional but national significance and is a destination unto itself.
There are 96 such designated byways in 39 states. The Federal Highway Administration promotes the collection as America's Byways™.

The state and national programs are voluntary and are about recognition, not regulation. Both were developed to promote tourism and economic development in the communities along the byways and to educate the traveling public about our environment, history and culture. The programs are designed to work within existing state and local regulations. The byway programs do not require significant local financial investment nor do they infringe upon individual private property rights.

Read the America's Byways Fact Sheet

What makes a byway successful?
"America's Byways are roads to the heart and soul of America. Byways help create a sense of pride in America. They connect us to this country's beauty, history and culture."
It is the philosophy of the Alaska and National Scenic Byways programs that byways should be developed and managed to serve the communities through which they pass. While byways must recognize and address the needs of the traveler, development strategies should be a product of the local communities of people who live near the byway and those who may interact and/or benefit from travelers.
A successful byway will be different for each community and region. For some towns, a successful byway will be one that uses the State and/or national byway programs to recognize, conserve and/or enhance the unusual qualities of the road. For other byways, success will involve using the road to create a tourism product that appeals to travelers and results in economic benefits.
What about regulations on Scenic Byways?
There are no state restrictions that apply to scenic byways.
There is only one federal requirement of nationally designated byways: new billboard construction is prohibited along nationally designated scenic byways that are interstate, National Highway System, or federal-aid primary highways. Existing billboards are allowed to remain. This is not an issue in Alaska because billboards were banned by 72% of the voters in 1998.
What are the benefits of a scenic byways program?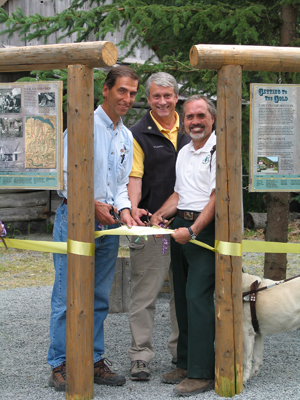 One of the key benefits of the state and national scenic byways program is the added economic opportunities and increased tourism provided to communities along the designated route. Promotion of the byway through maps and other literature by the state and national programs can expand the number of visitors to an area, which can generate economic growth and increase community recognition.
Other potential benefits include:
Increased pride and cooperation among byway communities.
Enhanced educational and interpretive opportunities for residents and visitors about the history, nature and culture of the area.
Improved eligibility for federal grant funds for developing and implementing corridor management, marketing and interpretive plans.
National and international marketing conducted by the National Scenic Byway program for nationally designated byways.
Access to resources and expert assistance in managing and marketing the highway corridor for byway volunteers and organizers.
Resource Library