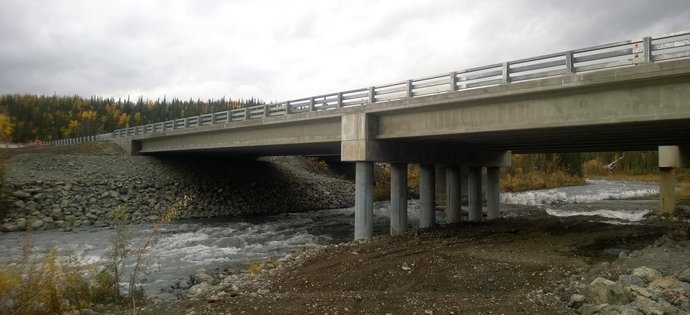 Department Sees Success With New Project Delivery Method Oct. 5, 2015

Construction wrapped up on the Riley Creek Bridge Replacement last week. This project was originally planned to continue through 2016 but was finished a year ahead of time.
The project, located at Mile 237 Parks Highway near the entrance to Denali National Park and Preserve, involved replacing the bridge at Riley Creek, realigning 1.8 miles of highway and adding turn pockets for the Denali Park Road intersection. ADOT&PF hired contractor Hamilton Construction for this work in 2013. Hamilton participated as a team member in the design of the project, which began construction in late fall 2014.

The early project finish stems from use of the Construction Manager/General Contractor (CMGC) project delivery method. This is the first roadway project in Alaska for which the department has used CMGC.
CMGC is an alternative project delivery method in which the contractor is hired before the project moves to the construction phase. The contractor, designer and construction staff then work as a team throughout the design and construction phases. This allows the contractor to provide input on constructability; incorporate innovations into the work and approach; transfer knowledge between the contractor, department and other key stakeholders; and also manage and minimize risk.
Using the CMGC process offers myriad benefits. These include:
Maximizing collaboration between team members,
Promoting innovation,
Finding efficiencies and cost savings, and
Identifying and mitigating risks early.
The department chose the Riley Creek Bridge Replacement as a good test for CMGC because of the challenges involved in the project. Challenges included heavy seasonal traffic, the short construction season, and the presence of multiple stakeholder agencies, such as the National Park Service and the Environmental Protection Agency.
The CMGC process allowed the team to work through issues before funding was committed and helped build strong relationships with these agencies.
Because of the benefits of the CMGC process and the positive outcome of this project, ADOT&PF Northern Region plans to use the CMGC process for other selected and complex projects in the future, including the University Avenue Rehabilitation and Widening in Fairbanks.