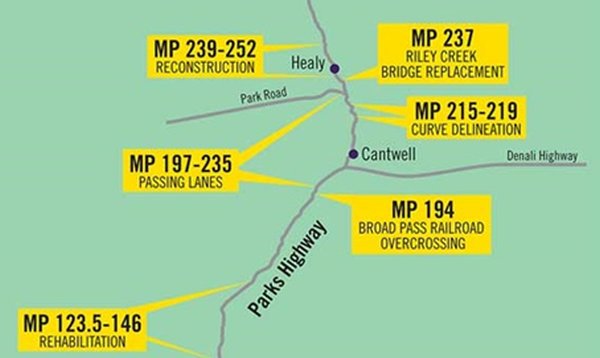 Parks Highway 2015 Website Feb. 9, 2015

It's shaping up to be another busy construction season on the Parks Highway. If you plan on traveling the Parks this summer, we've got a website you might want to bookmark. It's the Parks Highway 2015 planned projects site — https://dot.alaska.gov/parks2015/.
The site lists all the projects expected to go to construction in 2015 on the highway. These include, among other projects:
rest areas north and south of Nenana;
replacement of Riley Creek Bridge at Mile 237;
a rehab of Miles 123.5-146; and
the second half of the railroad overcrossing at Broad Pass.
Check out the site for a list of all the projects and descriptions of them. And keep checking our Facebook page before and during construction season for updates on these projects.