How Speed Limits are Set Jan. 12, 2015

Residents and public officials often ask us how we determine speed limits on state roadways. Here's a rundown of how those numbers are determined.
What are Alaska's speed limits?
Speed limits are set to inform drivers of the maximum speed considered safe and reasonable under good conditions. They are also intended to lessen the difference in speeds between vehicles, thereby reducing the potential for conflicts.
Regulation 13 AAC 02.275 sets the following maximum lawful speeds on Alaska roads.
15 miles per hour in an alley;
20 miles per hour in a business district;
25 miles per hour in a residential district; and
55 miles per hour on any other roadway.
The regulation also states no one may drive at a speed greater than is reasonable and prudent considering traffic, roadway and weather conditions.
How are different speed limits determined?
The speed limits above are in effect except where speed limit orders establishing different limits have been completed and those limits have been posted.
The Alaska Department of Transportation and Public Facilities (ADOT&PF) has an established policy and procedure for determining if a different speed limit is appropriate. A brief summary of the process is provided below.
Department Policy and Procedure 05.05.020, Establishment of Speed Limits and Zones (http://1.usa.gov/1twBx1m), contains additional requirements not presented here, such as minimum length of speed zones, how and where to post speed limits and how to implement temporary speed zones for construction areas.
Department staff collects speed measurements of free-flowing traffic on the roadway. Only the first vehicle traveling in a group is counted as it is setting the speed of the vehicles following it.
The speed data is analyzed to determine the 5-mph increment closest to the speed at which 85 percent of the drivers during the study period were driving at or below. The 10 mph speed range that includes the largest number of vehicles, known as the pace, is also determined.
The speed limit is generally set at the 85 percent speed. If the 85 percent speed exceeds the maximum allowable speed established in the Policy and Procedure for the road type and location (varies from 55 mph to 75 mph), the maximum allowable speed is posted.
Where police enforce speed limits frequently, the speed limit may be set at the median (middle) of the pace range in residential areas or business districts or where crash experience indicates a need for a reduced limit.
If a change to the existing speed limit is recommended by ADOT&PF, the department will coordinate with law enforcement and consult with local municipalities. Community councils and other community organizations may request in writing to participate in the process. If the department and local municipality, community council or community organization do not agree on changes to the existing speed limit, the department shall provide for a public hearing.
What is Alaska's highest speed limit posted?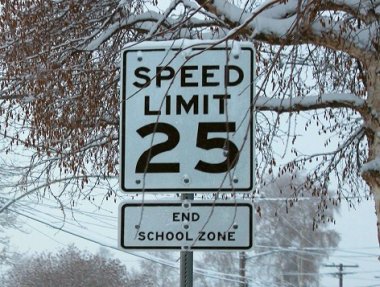 Currently, the highest posted speed limit in Alaska is 65 mph. This is allowable under the Policy and Procedure on routes designated as part of the National Highway System if they are outside urban districts or on controlled access highways inside urban districts. Changes to the Policy and Procedure in September 2013 allow controlled access facilities with no at-grade intersections and median or barrier separating opposing traffic lanes to be posted as high as 75 mph.
Regulation 13 AAC 02.280 allows the department to establish different speed limits where regulatory maximums do not fit specific road or traffic conditions.