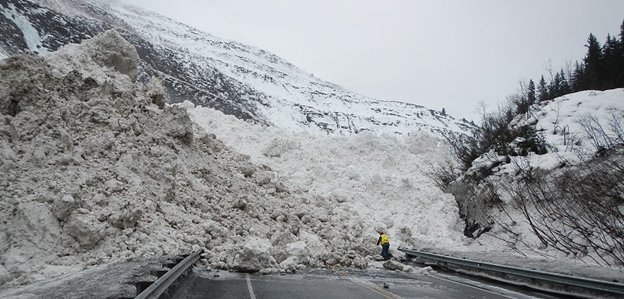 One Year Later: "Damalanche" Jan. 26, 2015

Saturday marked the year anniversary of the historic avalanches that blocked the Richardson Highway outside Valdez for 12 days.
On Jan. 24, 2014, after nearly 12 inches of rain and abnormally high temperatures that week, the snow around Thompson Pass began to shed resulting in a series of both large and small avalanches. The avalanches blocked the Richardson Highway near the end of Keystone Canyon, cutting off ground access to Valdez.
The epic slide also dammed the Lowe River, submerging a large section of the highway under a lake 30 feet deep, ½ mile long, and ultimately containing an estimated one billion gallons of water. The blockage was dubbed the "Damalanche" by residents as it was both a dam and an avalanche.
Learn more about Damalanche, what caused it and crews' hard work to reopen the highway with the following resources: