Airport Safety Office
Safety Management Systems
What is SMS?
SMS, or Safety Management Systems, is a formal method for managing safety with a focus on proactive risk mitigation. SMS builds on an organizations current safety program; is systematic, structured and data driven; requires senior leadership commitment; treats safety as a core value; and seeks to proactively mitigate hazards and their associated risks. In order for an SMS to be effective, it requires participation from employees at all levels within the organization.
The Fairbanks International Airport (FAI) is in the process of launching SMS to aid our efforts of delivering a safe and customer friendly experience to all who work and visit the airport.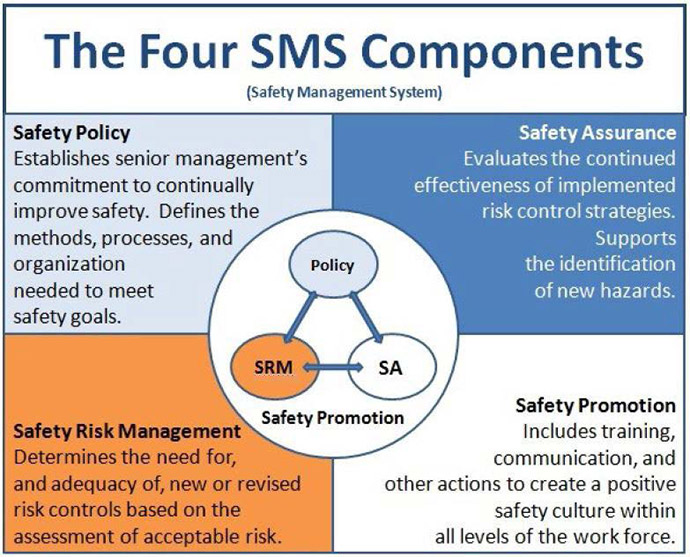 Safety Policy Statement
FAI is committed to the prevention of incidents and accidents that may negatively impact life or safety, while protecting property and the environment to enable efficient airport operations.
Safety Reporting Policy
Every employee and stakeholder is responsible for communicating any information that may affect the integrity of Airport operations. SMS; however, is not for the reporting of accidents or criminal activities requiring an immediate or emergency response, which should be reported by calling 911.
Any other urgent information requiring immediate non-emergency attention should be directed to the Airport Communications Center at 907-474-2530.
Safety Anonymous Reporting Portal
Early identification is essential for reducing accident rates and injuries, and leads to the proactive identification of hazards and their associated risks; development of corrective actions; and increased education of appropriate parties.
We encourage the reporting of all potentially hazardous conditions, incidents and/or occurrences, which may compromise the safe conduct of Airport operations by using the hazard reporting link below or via our Safety Officer at amanda.stonecipher@alaska.gov or 907-474-2582. Such communication may be made anonymously, according to the preference of the reporter.
SMS DIVISION CONTACT INFORMATION
Mark Pliska, Safety Officer
Email: mark.pliska@alaska.gov
Phone: 907-474-2582
Address:
Fairbanks International Airport
Attn: Safety Officer
6450 Airport Way, Suite 1
Fairbanks, AK 99709