Civil Rights Office
Learn about Alaska construction career opportunities!
Alaska Construction Careers Day video highlighting careers & statistics.
Public Meeting Draft Disparity Study - Public Notice
ALASKA DOT&PF
DISADVANTAGED BUSINESS ENTERPRISE (DBE) PROGRAM DISPARITY STUDY RESULTS PRESENTATION PUBLIC MEETING NOTICE
You are invited to attend the Alaska DOT&PF/MGT Consulting Group DBE Disparity Study Results virtual presentation public meeting on December 22nd from 10 AM to 12 PM AKDT. The DOT&PF and MGT Consulting Group has finalized the most recent Disparity Study and is presenting the results to the public. As you may recall the purpose of the Study is to measure the success of its Disadvantaged Business Enterprise program (DBE). The ultimate goal is to provide fair opportunities for all firms interested in doing business with the DOT&PF.
The final report will soon be released and will be available at www.alaskadotpfdisparitystudy.com.
PUBLIC COMMENT
The public can also submit comments about DOT&PF's Availability and Disparity Study Update via https://alaskadotpfdisparitystudy.com/contact-us-n/ or via mail to: DisparityStudyPublicComment2020@alaska.gov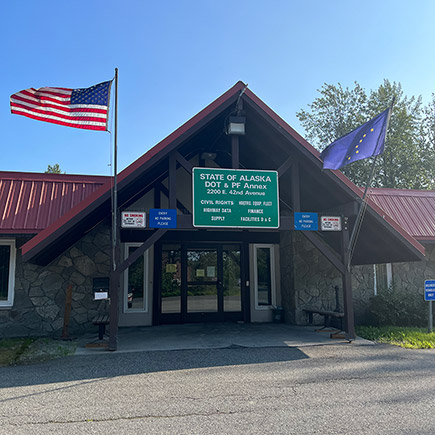 The Civil Rights Office is committed to ensuring equal opportunity for all businesses and personnel on Alaska Department of Transportation and Public Facilities (DOT&PF) projects. It is the policy of the Alaska Department of Transportation and Public Facilities (DOT&PF) that no one shall be subject to discrimination on the basis of race, color, national origin, sex, age, or disability, regardless of the funding source, including Federal Transit Administration, Federal Aviation Administration, Federal Highway Administration, Federal Motor Carrier Safety Association and State of Alaska funds."
Our Mission is to "Keep Alaska Moving through service and infrastructure."
The Civil Rights Vision is to ensure transportation services are provided in a non-discriminatory manner.
The Latest Civil Rights News, Highlights & Events
*If you have trouble accessing any of these documents, please call
(907) 269-0851 or TDD / TTY number 800-770-8973 (Alaska Relay 7-1-1).