Parking Policy Change - Facilities will be changing its policies regarding parking in state parking without a parking pass in the Juneau core parking, effective 9/18/23:
Employees must display a SOA issued permit that can be clearly seen
Employees must register each vehicle driven . One permit can cover several vehicles. Employees and the public will no longer be able to call in to have a vehicle cleared temporarily.
Any vehicle not registered with the State of Alaska will be subjected to booting at a cost of $200.00 to the vehicle owner . Vehicles that are not addressed by the owner within 48 hours after booting will be towed to in pound.
All contractors will need to obtain a permit for extended parking related to projects, or use visitor parking for short term when no service vehicle parking is available
Temporary permits for travelling SOA employees can be obtained and issued to the vehicle said SOA employee will be driving or said employee may use visitor parking located on P1.
All vehicles will be checked against the SOA parking data base prior to any action. Any SOA employee vehicle that is registered in the data base but not displaying a permit will be issued 2 warning tickets followed by booting on infraction number three.
Temporary visitor permits will be issued to individual departments for their staff visiting Juneau to be distributed by the departments for their dispersal to their reports.
These policies apply to all SOA core parking as outlined on the Division of Facilities Services'
Parking web page
. Please contact the facilities call center at
907-465-5689
or
facilities.callcenter@alaska.gov
for more information or to obtain a parking permit.
Please use the contact information listed below for questions, comments, and issues related to parking enforcement such as, citations, reporting violations, or for making prior parking arrangements.
Juneau - State Office Building & Downtown Area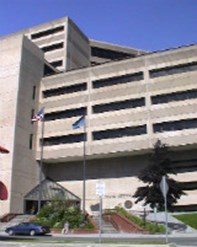 Juneau State Office Building
General Information
Documents & Forms
Managed by: Alaska DOT&PF
Division of Facilities Services
907-465-5689
Juneau State Office Building
141 Willoughby Ave
Juneau, AK 99801
Anchorage - Robert B. Atwood Building and Linny Pacillo Parking Garage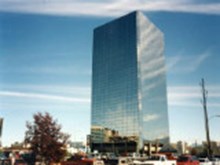 Robert B. Atwood Building
Linny Pacillo Parking Garage
General Information
Managed by: Alaska DOT&PF
Division of Facilities Services
Colliers International
907-269-0330
Robert B. Atwood Building
550 W. 7th Ave Suite 280
Anchorage, AK 99501
Linny Pacillo Parking Garage
517 West 7th Avenue
Anchorage, AK 99501
Palmer - State Office Building Parking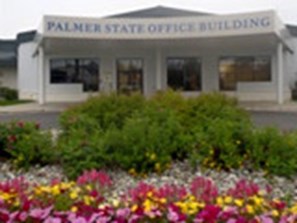 Palmer State Office Building
Managed by: Alaska DOT&PF
Division of Facilities Services
Colliers International
907-707-1701
Palmer State Office Building
515 East Dahlia Avenue
Palmer, AK 99645
Fairbanks - State Office Building Parking

Fairbanks State Office Building
Managed by: Alaska DOT&PF
Division of Facilities Services
907-451-2906
Fairbanks State Office Building
675 7th Avenue
Fairbanks, AK 99701