Facilities Maintenance Hubs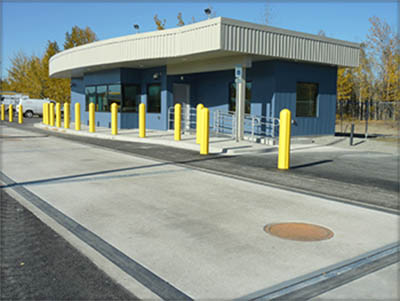 Sterling Weigh Station design-build replacement project.
Photo by Matt Tanaka, Alaska DOT&PF
The Division of Facilities Services is headquartered in the Department of Transportation & Public Facilities ATWOOD building located at 550 W 7th Ave, Anchorage, Alaska.
The Maintenance and Operation section of the division is staffed by over 100 maintenance personnel throughout the State of Alaska. This includes managers, foremen, and various maintenance personnel.
Personnel working to provided services in the M&O section of the Division of Facilities Services are dispatched out of three major geographic hubs: Anchorage, Fairbanks and Juneau. While there are geographic dispatch hubs, the Division of Facilities Services provides maintenance and operation support statewide. The Division of Facilities Services strives for customer satisfaction, cost efficiency, and effectiveness. In order to meet these expectations, the Maintenance and Operations section will dispatch personnel from the most economically efficient location.