Statewide Public Facilities
Projects
SLAM – State Library Archives Museum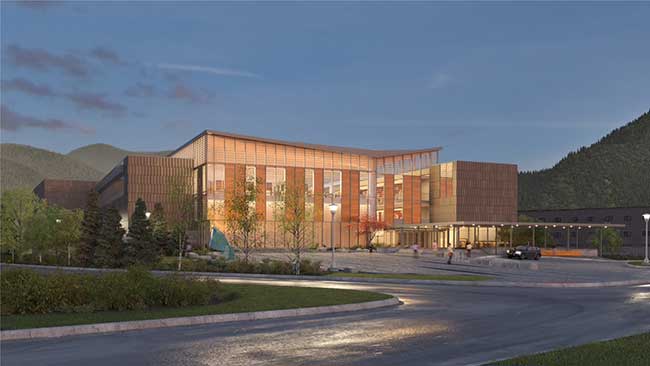 Cost of Project = $138.95M
Physical Size of Project = 160,000 sq. ft.
Planned Opening Date = May 2016
Alaska's State Library Archives Museum (SLAM) is a four year phased construction located in Juneau. The $138.95M construction project is being managed by the Alaska Department of Transportation and Public Facilities on behalf of the Alaska Department of Education and Early Development's Division of Libraries, Archives, and Museums. The State has utilized construction manager/general contractor (CM/GC) to facilitate the phased construction, to find best efficiencies and to allow for sequential occupancy.
The Mission: The new building supports the Division's mission for protecting and providing access to the collections and histories of the state of Alaska.
Energy Consumption: Projections show no increase in facility costs despite doubling of usable space for the Division. The new facility incorporated sea water wells for desiccant cooling and dehumidification.

Energy Program
| | | |
| --- | --- | --- |
| Mt. Edgecumbe High School gymnasium in Sitka, Alaska before lighting improvements. | | Mt. Edgecumbe High School gymnasium in Sitka, Alaska after lighting improvements have been implemented |
The Energy Office manages the implementation of energy efficiency retrofits to serve DOT&PF and our State Agencies through Energy Savings Performance Projects. Energy Efficiency projects have been completed in over 50 state public facilities, achieving a combined energy cost savings greater than $2.4M per year. In 2014, the DOT&PF Energy Office achieved its statutory requirement to perform energy efficiency improvements in at least 25% of State public buildings 10,000 square feet or larger, excluding Legislative and Court Buildings by 2020. The Energy Office continues to develop and implement further energy efficiency projects for DOT&PF and our State public buildings.
The annual energy savings achieved from completed projects is:
ANNUAL ENERGY SAVINGS ACHIEVED
Electricity
> 7,700,000
kWh
Natural Gas
> 162,000
CCF
Heating Oil
> 237,000
Gallons
CO2 Reduction
> 9,500
Tons
Alaska Veterans and Pioneers Home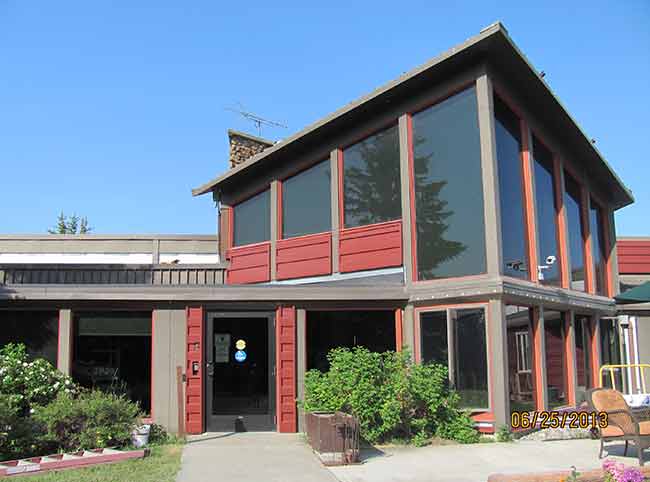 The Alaska Veterans and Pioneers Home project's goal was to increase energy efficiency and decrease maintenance for the exterior walls and windows. Windows in all the resident rooms and selected clerestories in common circulation areas were replaced with new, more energy efficient and lower maintenance vinyl windows, sized for existing openings. The new windows reduce infiltration and are more insulative than the old windows, though windows in resident rooms each have operable lite, as did the old windows. This allows individual residents to open their windows if they like as many feel this is important. Additional insulation and low-maintenance metal siding covered the existing wood siding and some exposed CMU. Exterior walls that did not receive new siding were painted to match. Statewide Public Facilities has heard from a number of staff and residents that they notice the difference in how warm residents' rooms stay now satisfying our client.
AVTEC Dorm Replacement
Cost of Project = $12,699,960
Physical Size of Project = 25,409 sq. ft.
Number of Dorm Residents = 120 beds / students
The AVTEC Dorm Replacement project located in Seward consisted of demolition of the existing AVTEC dorm and replacement. The dorm rooms for the replacement were modular construction built in a factory in Rathdrum, ID, then shipped directly to Seward on nine dedicated barges; the remaining portions of the facility were built on site in Seward. The new Dorm replacement helps to rebuild the technical college and enhance student experience, while restoring an important part of the community. While the construction was in progress, a web camera tracked progress of the project on a daily basis. Due to an experienced and motivated Project Team with support and corporation from the community, the project was delivered on schedule and within budget.
Anchorage Sport Fish Hatchery
The William Jack Hernandez Sport Fish Hatchery, completed in June 2011, was constructed on 3 acres brown field site located near Joint Base Elmendorf Richardson (JBER). The new hatchery allows for the production of more than 6 million sport fish a year, increasing historic stocking levels. The facility has two new laboratories and includes a 10,000 sp. ft. visitor area. This project won numerous awards including the first facility in the world to win the Envision award for a sustainable facility.

William Jack Hernandez Sport Fish Hatchery
Cost of Project = $96M
Physical Size of Project = 141,511 sq. ft.
Completion Date = June 2011
Client = Alaska Department of Fish and Game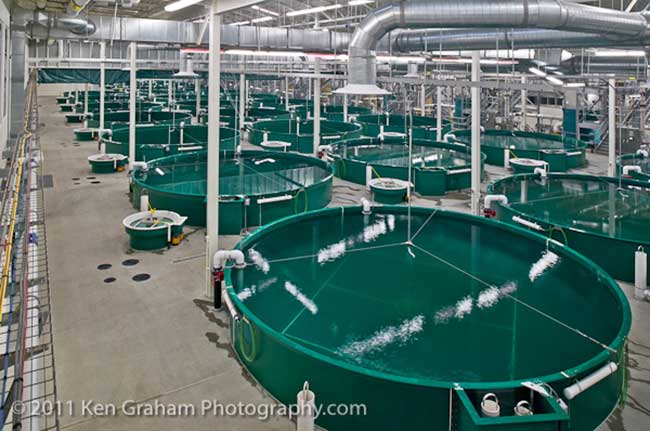 Bethel Youth Facility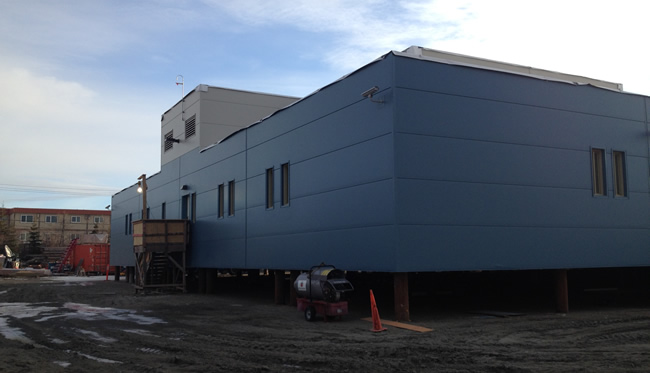 The Bethel Youth Facility Expansion doubles the existing square footage and includes a new detention wing, treatment wing and probation offices in a fully operational facility, housing Agency staff and detained youth. To facilitate occupancy, Statewide Public Facilities worked collaboratively with the Agency and developed a phased approach to the project. Because of the unique operating equirements of the Agency and the phased construction requirements, this project is being onstructed using innovative contracting methodologies of Construction Manager/General Contractor.
Substantial completion of the project is scheduled for August 1, 2015.
Unalaska Airport Chemical and Equipment Building

The Unalaska Airport contains an historical landmark that was bombed during WWII and since re-built. After a structural assessment in April 2011, it was determined that the existing building was structurally unsound due to severe corrosion at several structural joints within the building. Due to the historical background of the building, Statewide Public Facilities plans to re-build the existing hangar improving the structural stability as well as renovating the structure. This Federally funded project will rehabilitate the existing WWII hangar at the Unalaska Airport to provide for deicing chemical storage tanks, a mixing tank, dry chemical storage, and snow removal equipment.
McLaughlin Youth Center (MYC)
The McLaughlin Youth Center received new additions and renovations during the projects conducted at MYC in Anchorage. These projects have made needed renovations to the facility, such as updated on-site health and dental offices, added classrooms and common rooms. The new layout has aided in the ability to increase the security and teach the youth skills needed to better their lives.