Design & Construction Standards
Traffic and Safety Resources
High-Intensity Activated Crosswalk (HAWK) Pedestrian Hybrid Beacons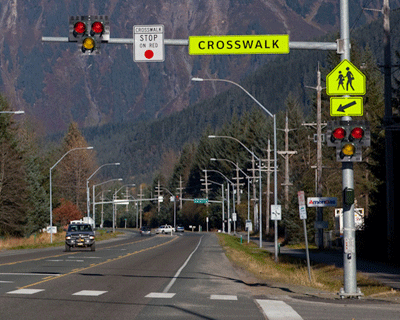 On October 13, 2009, a new type of traffic control device, a HAWK pedestrian hybrid beacon, was activated in Juneau on Mendenhall Loop Road at Floyd Dryden Middle School. The state's second HAWK beacon was activated on March 23, 2012 at the Walmart driveway on Glacier Highway, also in Juneau.
While not appropriate for every crossing, pedestrian hybrid beacons have proven to be safe for pedestrians and cause less delay to motorists than a traffic signal. They have been used successfully for many years in Arizona and other states.
In Alaska, they are used at select crossing locations on major streets not already controlled by a traffic signal or other traffic control device. Other considerations include traffic volumes, posted speed and crossing distances at the uncontrolled crossing location.
Pedestrian hybrid beacons are an approved option in the latest edition of the federal Manual on Uniform Traffic Control Devices, published in December of 2009.
How does it work?
The HAWK beacon is different from a conventional traffic signal in that it remains dark unless a pedestrian presses the "call" button. Watch the illustration below to see what happens when a pedestrian pushes the button to start the HAWK sequence (Please note: timer intervals have been shortened for illustration purposes).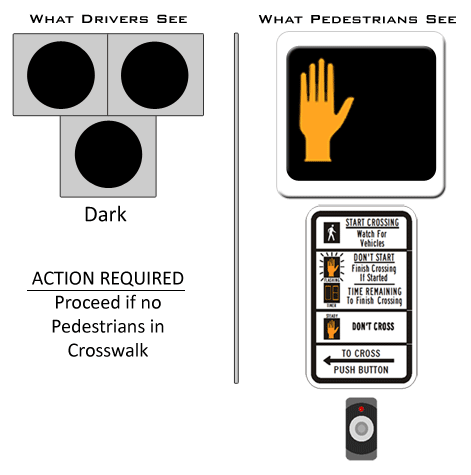 Studies indicate that 97% of drivers yield to pedestrians when a HAWK is in operation. No alternative does better.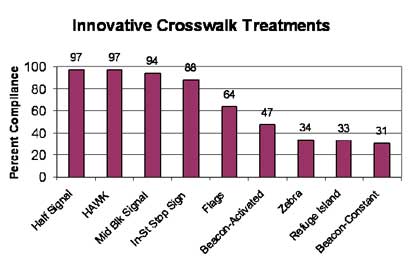 Links