AASHTOWare Project
Contract Number 2519H002
AWP will be down for regularly scheduled maintenance on October 2nd from 6:30 am - 9:00 am.
Thank you for your patience.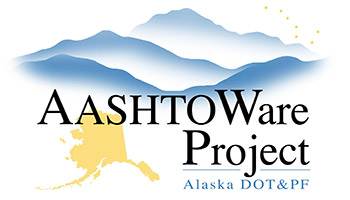 to log into the
Alaska AASHTOWare Website
Trouble logging in? Trouble viewing your Contract information?
Contractors – If you are on an awarded Contract, follow the submission process detailed in the instructions to get an AWP account:
If you still cannot log in, you need to be given the right to view your Contract by DOT.
Do you still have questions about submitting certified payroll?
Join us every Monday at 9 a.m. (excluding State of Alaska holidays) for our virtual Contractor Q&A session.
Join the zoom session on your computer
OR
Join by phone: +1 301 715 8592
Meeting ID: 838 8195 9552
Passcode: DOT
DOT&PF Staff - Login with your SOA ID and email password. If you are on an active Contract, but cannot view the Contract information, contact your regional QA Engineer for Contract Authority. If you are unable to log in altogether, contact the CRL Module admins.
Consultants
– Fill out the form provided
here
and submit it to the DOT Manager.
AASHTOWare Project is a suite of software created by AASHTO (American Association of State Highway Transportation Officials) specifically for state DOTs to manage their programs. The use of AASHTOWare Project (AWP) by Alaska Department of Transportation & Public Facilities (DOT&PF) will result in several benefits:
Alignment of Business Processes across the state
Increased Fiscal Responsibility and Accountability
Increased Compliance with Federal and State Regulations
The AASHTOWare Project implementation consists of two components: analysis and implementation. The analysis component will explore regional differences with the goal of alignment. The implementation component consists of configuring and customizing the AASHTOWare Project modules, testing the software, and training personnel to use the software.
Core Teams for each phase, comprised of subject matter experts from across the state, will participate throughout the implementation of AASHTOWare. These teams will provide input during analysis and ensure the software is thoroughly tried and tested before it is launched.