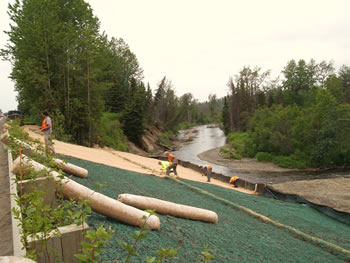 Matting Slopes, Kenai Flood Repair.
Photo by Roberta Mike, Alaska DOT&PF
Requests for Proposals (RFPs) for Construction-Related Transportation Development
RFP files are Microsoft Word or Adobe PDF documents compressed into a single "zip archive" file to reduce file size and download time. A decompression utility like PKZip, ZipGenius or unzip is needed to extract these files. An icon or file name hypertext link in the "Download Project" field will only appear at the end of each RFP/PSA item if there are documents available to download.
To download the same zip files you previously downloaded again, clear the browser disk & memory caches to ensure you receive the current version. Contact your own support staff for assistance as needed.