Professional Services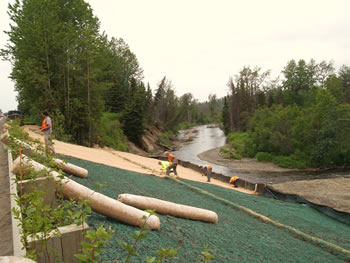 Matting Slopes, Kenai Flood Repair.
Photo by Roberta Mike, Alaska DOT&PF
Requests for Proposals (RFPs) for Construction-Related Transportation Development.
Highway, airport, building and marine facility development solicitations are available here under the first two links, based on contract amount.
Contracts here include engineering and architectural design, planning, photogrametry, surveying, geophysical and hydrologic investigation, construction management, materials testing, environmental testing and consulting, marketing, economic analysis and estimating.
Non-construction professional services RFPs are not listed on this site. Some RFPs that could be considered "Construction-Related" may not be listed on this site.
All formal RFPs are listed on the Online Public Notice site. A link to this site is provided below.