About Requests for Proposals (RFPs)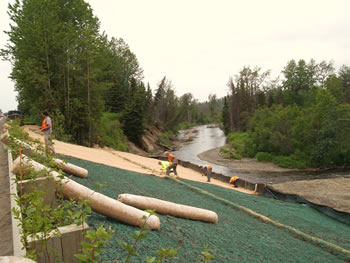 Matting Slopes, Kenai Flood Repair.
Photo by Roberta Mike, Alaska DOT&PF
Requests for Proposals (RFPs) for Construction-Related Transportation Development.
Beginning January 1st 2024 in order to more closely align with the Construction bidding process, RFPs for Construction-Related Transportation Development will be advertised through BidX. In order to submit a proposal for an RFP for Construction-Related Transportation Development you will need a FREE BidX account to access the Proposal information (BidX Sign Up) and your company will need to be an AWP Vendor.
Click here for instructions on how to become an AWP Vendor.
Alaska Statute Section 36.30, The State Procurement Code, contains the basic provisions for Competitive Sealed Proposals and Small Procurements. Details of the procedures are available in the manuals that are available here. This website and the State of Alaska Public Notices web page are the primary means of advertising these RFPs.
RFP holder lists for PSA projects are provided by links in the project listings when they are available. Currently no "subscription" lists of interested parties nor lists for small procurements are maintained. Both types of proposals are available for download here.
Occasionally, "Design-Build" solicitations which require professional services are advertised through our Construction Bidding web pages. Emergency and small procurement construction contracts are handled directly by project managers and are not usually posted to the web.
Disadvantaged Business Enterprises are encouraged to submit proposals. The State of Alaska is an Equal Opportunity Employer and it complies with Title II of the Americans with Disabilities Act of 1990.
Individuals with disabilities, including the hearing impaired, who need auxiliary aids, services, and or special considerations to submit a proposal must contact a TTD number shown below at least 24 hours prior to an RFP submittal time to make arrangements.
TTD/TTY:
Headquarters .........907-465-3652
Northern Region.... 907-451-2363
Central Region....... 907-269-0473
Southeast Region... 907-465-4647