AWP will be down for regularly scheduled maintenance on October 2rd from 6:30 am - 9:00 am.
Thank you for your patience.
AASHTOWare Project: Submitting Certified Payroll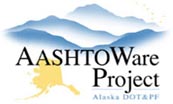 There are no implementation updates for Contractors at this time.
AASHTOWare Project (AWP) is a web-based software, used by the Alaska Department of Transportation & Public Facilities to receive and process the data required to meet federal and state requirements for certified payroll. All contracts awarded after January 1, 2021 will use AWP to submit certified payroll to DOT&PF and DOL.
Below are some answers to the questions we have heard from you.
How do I get access?
Each AWP account is associated with a particular person and it will be your responsibility to keep your username and password safe. Your account is what you will use to electronically sign the payroll that you submit.
There are two steps to access AWP to submit Certified Payroll and they must be completed in order.
Check the AASHTOWare Vendor List to confirm your company appears and view your IRIS Vendor ID. If your company does not appear (or does not appear as you'd expect – i.e. name changes) fill out the Substitute Form W-9 and email it to the address listed on the top of the form. In your email request a 913 commodity code is added to the vendor record (required for the company to appear on the vendor list).

Get an account, or authority to submit payroll for additional vendors by filling out the User Access Request Form and emailing it to dot.aashtoware@alaska.gov. Do not submit a User Request form prior to the company for which you are submitting payroll appearing on the AASHTOWare Vendor List.
Next Steps:
Make a request for Contract Authority. Provide your Username, the company you are submitting payroll for and the DOT Contract ID to the DOT Field staff. If you are a subcontractor or owner operator you can make this request of the Prime and they will forward the request to the DOT Contract Staff.
I'm logged into AWP, why can't I see my contract(s)? (Contract Authority)
You have to make a request for Contract Authority from the DOT Contract Staff for every Contract for which you want to submit payroll. Include your username, the contractor you will be submitting payroll for and the DOT Contract ID for which you need Contract Authority. If you are subcontractor or Owner Operator you can send this request to the Prime and they will forward it to the DOT Contract Staff. Once the DOT Contract Staff has granted you Contract Authority you will be able to see the contract, when you click Show first 10 under the Vendor Payroll collapsible on your dashboard.
I am an Owner Operator, do I need to submit my payroll through AASHTOWare?
Yes, Owner Operators are required to submit their certified payroll in AASHTOWare Project too. Each Owner Operator will need to follow the steps listed above under How do I get access?
I forgot my AASHTOWare password…
Email dot.aashtoware@alaska.gov with your username and request that your password is reset.
I've read the user guides but still have questions…
We host zoom meetings every Monday morning for any contractor who attends and has questions. This is an opportunity to share screens and address questions specific to the contractor(s) in attendance. Information for that meeting is located on our home page: https://dot.alaska.gov/aashtoware/ .
Who can see the payroll I submit?
DOL and DOT&PF staff will only be able to see the information that is appropriate for their position. You will submit all of your certified payroll details in AWP. Prime contractors will be able to see, and check, all their subcontractor's payroll prior to sending it on to DOL and DOT in the system. The system will take care of redacting the personally identifiable information for you.
Will you provide training?
You bet. You can find training material on the Training and Outreach Tab or by clicking here. Quick Reference Guides and Computer-Based Training on the User Guides Tab; click here to jump to User Guides Tab. We are updating and adding resources on these tabs regularly, so check back often. If you want to hear about upcoming training, be sure to sign up for our email newsletter here.
Can Payroll be automatically uploaded?
Some accounting systems are already set up to export payroll data directly into AWP, although they will need to take into account the ways that Alaska has chosen to use each field (check out the Payroll XML Project Field Definitions document in the resources tab of this web page). There is also the option to input payroll data into an excel spreadsheet and convert it to XML, or you can input payroll data manually into the system. You can find a copy of the payroll spreadsheet along with other resources here and quick reference guides on the different ways to submit payroll in AWP here.
Why is DOT&PF using AASHTOWare Project?
Managing complex construction projects is hard work. The reporting requires a lot of time and the information must be accurate when it is shared with other government entities and the public. AASHTOWare Project was designed to assist state DOTs with awarding, managing, and reporting on construction projects. We know this change will be hard but we also know that going to AWP will help us Keep Alaska Moving.
I've got my account set up in AWP now; how do I submit payroll?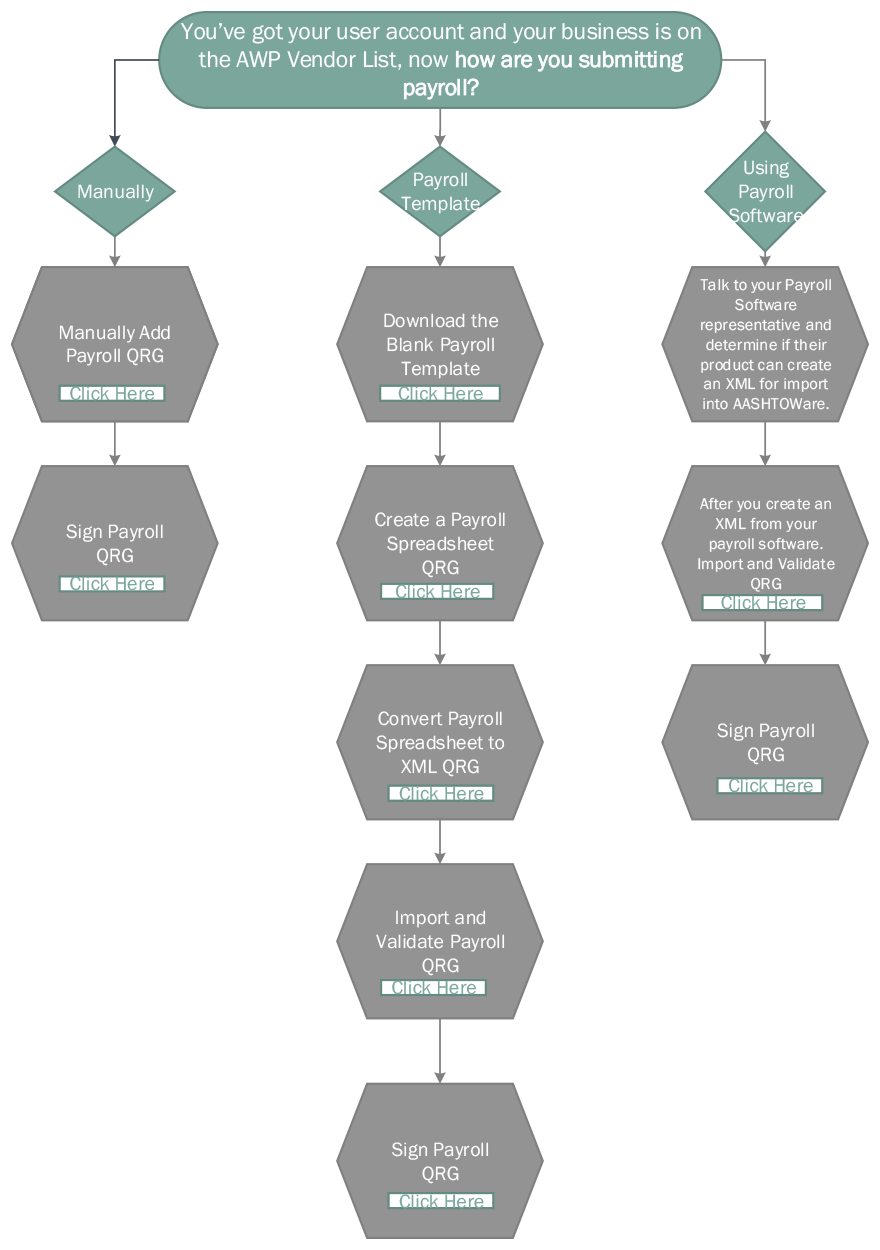 Download the VISIO Flowchart