AASHTOWare Project Vendor List
This list encompasses all vendors registered in IRIS VSS and having a 913 commodity code. If you have recently added a 913 commodity code to your company's record, give it 48 hours for your company to appear on the list.
Being on this list is a prerequisite for:
Submitting certified payroll for a DOT&PF project
Signing up for the Plan Holders list (in order to do this you email address must be file with DOT&PF. If it is not, please contact your Regional Contracts Office)
Registering as a DBE
Bidding on DOT&PF Project

Bid Express Electronic Bidding
Now available for all projects advertising (unless otherwise specified in the Invitation to Bid).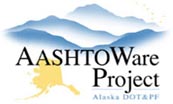 All prime contractors, subcontractors and DBEs must register on the Alaska DOT&PF AASHTOWare Vendor list in order to submit bids or register on plan holder's lists. You can get on the Alaska DOT&PF AASHTOWare Vendor list now!
Click here for instructions
.
For more information, please visit the AASHTOWare Project page for Contractors:
dot.alaska.gov/aashtoware/contractors.shtml