AASHTOWare Project: DOT&PF Staff
Below are some answers to the questions we have heard from you. If you do not see the answer you are looking for you can reach out to the AASHTOWare Implementation team at dot.awp.implementation.team@alaska.gov
What is AASHTOWare Project?
The American Association of State Highway Transportation Officials (AASHTO) developed the AASHTOWare Project software suite specifically for state DOTs to manage their complex construction projects. AASHTOWare Project has been customized by the Alaska Department of Transportation & Public Facilities (DOT&PF) to align with our business process, to track and monitor, and to comply with all federal and state regulations.
AASHTOWare Project is made up of multiple modules; each module represents a phase of the construction workflow. Below are the modules that Alaska DOT&PF has and will be implementing:
Preconstruction & Project Bids (implemented in 2018)
Civil Rights & Labor (implemented in 2021)
Construction & Materials (tentative implementation summer 2022)
Estimation & Data Analytics (tentative implementation fall 2023)
For more information on the different modules, visit https://www.aashtoware.org/products/project/project-modules/
AASHTOWare Terms:
Contract Authority - Permission to view and work on an active contract. A contract can be made up of multiple projects.
Roles - Permissions set in the system to allow a user to perform specific duties. For example, the Materials Lab Technician role has permissions to create and perform material testing tasks but does not have permissions to submit a change order. Individuals may be assigned multiple roles in the system to be able to do their job.  
Vendor - Prime, Subcontractor, Owner-Operator
AWP - AASHTOWare Project
Module Admin - Are individuals that hold permissions in the system to perform administrator setup and system configurations. Each module has a module admin; for example, Civil Rights & Labor (CRL) module has CRL module admin.
Payroll Representative - Payroll Representative is an external person that has been designated to submit certified payroll for a company (that can be the Prime, Subcontractor, or Owner Operator). The payroll representative will need to request an AWP login from OIT (User Access Request).
How do I log in?
Use your SOA ID and email password to log in here.
Are you having issues logging in?
I can't log in at all.
Contact the CRL Module Admin or the AWP Implementation team to make sure you have an account with an assigned role.  The system requires you to have an assigned role to log in.
I can log in but I can't do anything.
Most likely you do not have Contract Authority. Contract Authority is permission to view and work on an awarded contract. You will need to request Contract Authority from the CRL Module Admin or from the Project Engineer. 
If I am the Project Engineer, what do I do?
Follow the flowchart, for directions on each step see user guides. Note: some of these tasks can be performed by both the Project Engineer and the Office Engineer. See Quick Reference Guides for more details.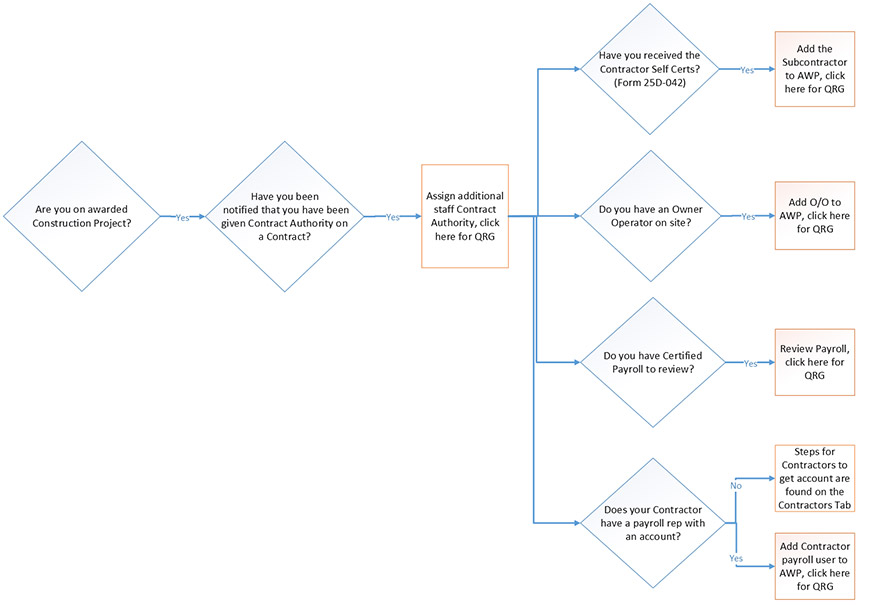 Download the VISIO Flowchart
Do I have to use AASHTOWare to review Certified Payroll?
Yes, all payroll for DOT&PF projects awarded after January 1, 2021 will be submitted in AASHTOWare Project. Each payroll will go through a review by both the Department of Labor Wage and Hour Division (DOLWD) and DOT&PF. The system is customized for Alaska to meet both needs simultaneously. For videos, guides, and more information on the review process, see User Guides or the Training tab.
Will you provide training?
You bet. You can find training materials here. We will be adding additional trainings to this page so be sure to check back often. If you want to hear about upcoming live training be sure to sign up for our email newsletter here.
What is happening behind the scenes?
Currently our Construction & Material Core Teams, comprised of subject matter experts from across the state, our AASHTOWare Implementation Team, and InfoTech are meeting regularly to provide input during the analysis phase and ensure the software, processes, and forms are thoroughly tried and tested.
Each region has designated a pilot project or two to test out the Construction & Material modules; pilot projects will be performed in conjunction with standard practices this summer. Throughout pilot projects, the AASHTOWare Implementation team will monitor and track any issues to be fixed before implementation in the summer of 2022.
How can I help?
Well, I'm glad you asked; we'd love your input and expertise. There is so much work left to be done before implementing the Construction & Materials module. We need help reviewing forms, reports, processes, testing the system's functionality, and honestly trying to break things in the system with the idea that it is better to break it now and have time to fix it. If any of this sounds like something you'd be interested in, please reach out to the AASHTOWare Implementation Team, and we can dive into specifics.