Southwest Alaska Transportation Plan
The Southwest Alaska Transportation Plan (SWATP) is a 20-year regional transportation plan used to guide future public investments in transportation infrastructure. The state regularly reevaluates regional transportation needs and possible projects that serve the economy and population of the area. The study area consists of the Lake and Peninsula Borough, Kodiak Island Borough, Aleutians East Borough (AEB), Aleutians West Borough, Bristol Bay Borough (BBB), and some areas outside the organized boroughs (the communities of the Aleutian chain, Dillingham Census Area, Adak, and the Pribilof Islands). As a regional area plan, the focus of the SWATP will be on regional transportation needs, such as movements between communities and in and out of the region.
All links below are in

Adobe PDF format and have a file size less than 1 mb unless otherwise noted.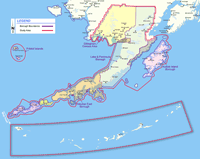 Complete Plan - May 2016

(8.5MB)

Appendices
Appendix A - Projects considered

(1.8MB)
Appendix B - Public Involvement Documents

(5.5MB)
Appendix C - Runway Length and Surface Improvements

(292KB)
Appendix D - Community/Local Airports 3000 ft or longer

(295KB)
Appendix E - Runway Length Increases and Decreases

(298KB)
Appendix F - Unalaska map

(505KB)
Appendix G - Kodiak map

(632KB)
Appendix H - Current Runway Length compared to ALP Goals

(169KB)
Appendix I - Iliamna Lake Area Communities Freight/Fuel Delivery

(242KB)
Appendix J - Runway Length Recommendations

(315KB)
Appendix K - Recommended Airport Approach Improvements

(304KB)
Appendix L - Ferry System Operations and Challenges

(3.14MB)
Appendix M - Williamsport Pile Bay Road

(2.1MB)

Key Contact for Southwest Alaska Transportation Plan:
Jim Potdevin

Surface Transportation Planner
DOT&PF Southcoast Region
6860 Glacier Highway
Juneau, AK 99801
(907) 465-1775
Email:
jim.potdevin@alaska.gov
If you have questions regarding the content of this page, please contact Eric Taylor at 907-465-8958 or eric.taylor@alaska.gov
Site Updated December 2018