Southeast Alaska Transportation Plan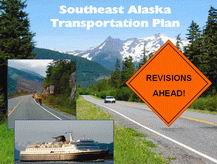 The Department of Transportation and Public Facilities (DOT&PF) has completed a Draft of the updated Southeast Alaska Transportation Plan (SATP) and recently held several public meetings to present the Draft SATP. Summaries from the public meetings have been prepared and are posted below. Also posted are comments that were received during the public comment period from June 24 to September 30, 2014. The Department continues to analyze and consider public feedback while working toward a Final SATP. Thank you for your involvement in this update.
The below documents are offered in PDF

format.
Written Public Comment Record
Public Meeting Summaries