Design & Construction Standards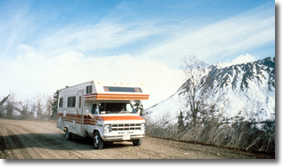 Right-of-Way
Highway Signs
DOT&PF developed the following five programs to address the types of directional signs that may be placed in the right-of-way, signs benefiting the public and local businesses and attractions.
Click below on the type of sign for information and photos:


---
The intent of these programs is to provide a service to the motoring public and the businesses along the way, as well as maintain Alaska's beauty. Click on the sign names above for a brief section on each sign type, its characteristics, and its eligibility requirements, and graphics.
Click here for a chart listing the five programs, their fees, permit durations, maintenance responsibilities, and the allowable locations. We hope this site simplifies the intent and requirements of the programs in an understandable way. It is not intended to answer questions for all possible situations. If your situation or application is not explained, please contact us at the addresses below:


Headquarters
Mailing Address:
DOT&PF D&ES Right-of-Way (ROW)
3132 Channel Dr.,
P.O. Box 112500
Juneau, AK 99811-2500


Physical Address:
3132 Channel Drive
Juneau, AK 99801
Southeast
Mailing Address:
DOT&PF Right-of-Way (ROW)
6860 Glacier Hwy
P.O. Box 112506
Juneau, AK 99811-2506

(907) 465-4540 or
(800) 575-4540
Fax: (907) 465-6216
TDD: (907) 465-4410

Physical Address:
6860 Glacier Hwy
Juneau, AK 99801-7909
Central
Mailing Address:
DOT&PF Right-of-Way (ROW)
P.O. Box 196900
Anchorage, AK 99519-6900

(907) 269-0700 or
(800) 770-5263
Fax: (907) 248-9456
TDD: (907) 269-0473
Physical Address:
4111 Aviation Dr
Anchorage, AK 99502-1058
Northern
Mailing Address:
DOT&PF Right-of-Way (ROW)
2301 Peger Road
Fairbanks, AK 99709-5316

(907) 451-5400 or
(800) 475-2464
Fax: (907) 451-5411
TDD: (907) 451-2363
Physical Address:
2720 Pickett Place
Fairbanks AK 99701