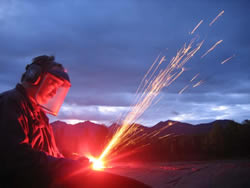 Mechanic Brian Flaherty lights up the dark Alaskan sky with his power grinder on a fabrication project.
Photo by by Mike Hankins, Alaska DOT&PF
Preventive Maintenance (PM) schedules are set by SEF to meet customers usage demands and manufacturer's maintenance specifications and warranty requirements. Each vehicle is assigned a PM schedule. SEF maintenance personnel work with vehicle users to keep all State vehicles in compliance with those schedules. Light-duty vehicles have a reminder sticker on their windshield; drivers should be aware of when the next PM service is due and schedule the vehicle to be serviced within that time.
Most PM Schedules have two types of services: an "A" service and a "C" service. The A service is routine maintenance and service, such as an oil change, tire rotation, lubrication, etc. that typically can be completed in less than one day. The C service is an in-depth service and maintenance process which can take much longer.
Light Duty PM Schedules
A Service
C Service
Insp. ID
Description
Months
Miles
All light duty units require a C service at:
36 months OR
36,000 miles
1000
Light Duty Regular Use
12
5,000
1001
Light Duty Seasonal Use
12
5,000
1002
Lt Duty Pursuit DPS only
6
5,000
1004
Lt Duty Severe Service
6
3,000