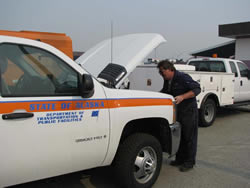 Light Duty Vehicle Pricing
SEF Maintains contracts with several light duty vendors in Alaska. Each of these vendors supplies pricing for basic vehicles with additional cost for added options. SEF uses the pricing data listed below to select a vendor for each individual vehicle purchase. The intent of this contract is to issue the purchase order to the vendor who provides the vehicle at the lowest price.
Cooperative Purchasing is authorized on this contract for qualified political subdivisions. At no time may the contractor change the terms and conditions, alter the price to another entity, which differs from the contractual price, nor charge undisclosed administrative fees to allow cooperative purchasing. Vehicles may not be delivered to Juneau SEF for other agencies utilizing this contract.
INSTRUCTIONS: Click on the links below to open the spreadsheet for the class of vehicle you are requesting. Select the optional equipment you require for your new vehicle by changing the zero to a one in the shaded column next to available options. The spreadsheet will automatically add the price of each vendor's options. The vendor with the lowest price will show "Purchase" at the bottom of the sheet. SAVE a copy of the spreadsheet and complete the Equipment Purchase Request Form. Submit to your departments fleet coordinator.
2/24/2022- All manufacturers are in between model years.

Please check back for updates or contact the dealer directly.
Contract #
Vendor
Contact
Phone/
Fax
Email

Kendall Ford

Ray Marcum

(907) 793-8213

raymarcum@kendallauto.com

Alaska Sales & Service

Dan Bacon

(907) 265-7535

danielb@aksales.com
| | |
| --- | --- |
| SUV'S | TRUCKS |
| | |
| | |
Vehicles that require additional justification and approval:
SUV'S

VANS

137 1 Ton 2WD Extended Passenger Van
137 1 Ton 2WD Extended Cargo Van

TRUCKS 4X4

129 Small Truck 4X4 Ex-Cab
130 Small Truck 4X4 Crew Cab
149 1/2 Ton 4X4 Ex-Cab
144 1/2 Ton 4X4 Crew Cab
154 3/4Ton 4X4 Reg Cab
155 3/4Ton 4X4 Ex-Cab
156 3/4Ton 4X4 Crew Cab
162 1-Ton 4X4 Reg Cab SRW
146 1-Ton 4X4 Ex-Cab SRW
147 1-Ton 4X4 Crew Cab SRW

CAB AND CHASSIS 12,000 GVWR

163 4X2 Reg Cab Chassis DRW
164 4X2 Ex-Cab Chassis DRW
148 4X2 Crew Cab Chassis DRW

CAB AND CHASSIS 15,000 GVWR

170 Regular Cab
170 Extended Cab
170 Crew Cab

CAB AND CHASSIS 17,500 GVWR

177 Regular Cab
177 Extended Cab
177 Crew Cab