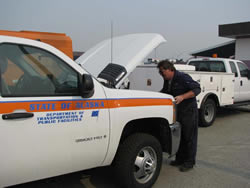 Light Duty Vehicle Pricing
SEF Maintains contracts with several light duty vendors in Alaska. Each of these vendors supplies pricing for basic vehicles with additional cost for added options. SEF uses the pricing data listed below to select a vendor for each individual vehicle purchase. The intent of this contract is to issue the purchase order to the vendor who provides the vehicle at the lowest price.
Cooperative Purchasing is authorized on this contract for qualified political subdivisions. At no time may the contractor change the terms and conditions, alter the price to another entity, which differs from the contractual price, nor charge undisclosed administrative fees to allow cooperative purchasing.
Manufacturers are in between model years and/or have established allocations based on individual fleet accounts, please contact the dealer directly for availability and pricing.

This page will no longer be updated.