NOTE: We're making some changes. Check back soon!
Public Comment Form:
Submit a Comment
Like many agencies in Alaska and the nation, DOT&PF is facing unprecedented challenges such as workforce shortages, aging fleet, and supply chain issues. DOT&PF has been working to adapt to these dynamic challenges and continues to work toward reliable and predictable service.
DOT&PF recently announced the launch of the Charting the Course | Reimagining AMHS Program to chart the course ahead to a thriving and healthy transportation system. The program will first focus on stabilizing the system and then incrementally adding service while providing transparency through monitoring and reporting of critical system elements—our crew, our vessels, and the financial resources to support service.
ABOUT THE PROGRAM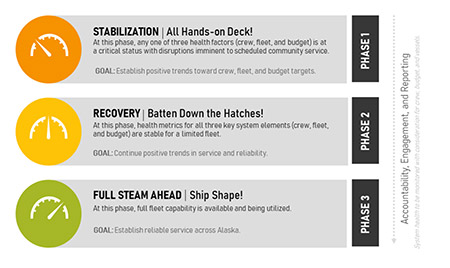 Building Trust One Trip at a Time.
The Reimagining AMHS program is a phased effort to improve service over time, focusing first on increasing the reliability of existing services and then moving to add additional services as critical system elements are available. The program aims to meet service level targets over time, as established by the legislature and Governor. These targets will be based on crewing availability, fleet capacity, and budget constraints. The program starts today, and we will continue to develop, monitor, and report on an ongoing basis. Three logical service phases have been identified as a part of the program: Stabilization, Recovery, and Full Steam Ahead.
What are the Phases of Service? 
Stabilization: Important metrics that impact the level of service are identified. Only metrics that can be reliably collected and analyzed are included. An initial system health check is performed by gathering a baseline for these metrics. Reliability improves as we increase crew and crew relief pools, and continue our vessel maintenance. System health is continually monitored to inform operating decisions. This phase will include weekly/frequent updates to the public updating them on these important metrics.

Recovery: In the recovery phase, system improvements begin to take hold which has a positive impact on system health and service levels.  Public updates will develop into a regular pattern, but less frequent than in the Stabilization phase.

Full Steam Ahead: Services are restored to their budgeted levels, and the system can move towards growth. Updates to the public will be provided as needed to communicate ongoing progress.
What will be Tracked and Reported? 
In each phase, DOT&PF will closely monitor system health metrics in the three critical system elements of crew, vessel, and budget. Combined these metrics provide a system health check, and as service levels are improved, system health checks will continue on a regular basis to ensure that incremental improvements in the level of service do not negatively impact the reliability of the system as a whole.
Crew: Employee morale, the happiness and well-being of our crews and shoreside staff, is an important indicator of our ability to retain our people and the overall health of our system. The availability of crew positions and relief pool points to our ability to meet the planned schedule, as well as any increase in service level.

Budget: The deployment of financial resources for service and maintenance should align with projections of state appropriation levels.

Fleet: Needed maintenance, overhauls, and capital projects are balanced with operating needs for safe and reliable vessels. 
DOT&PF will report on these critical system elements to the public on a regular basis. The status of these critical system elements is shown in the graphic below. Currently, though the budget is available, our system is behind in vessel maintenance, with an aging fleet. Most critically, the system is suffering severe staffing shortages, and those crew that is available are overworked, often needing to forgo vacation days in order to keep ships sailing.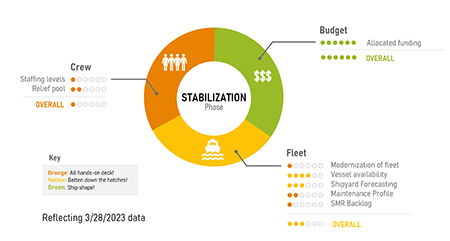 Supporting our communities is critical to AMHS. As a result, mitigating measures will be implemented to help support our communities until the system reaches Full Steam Ahead status. These mitigating measures will fall into three main categories: Fares, Communications, Policies.
We are excited to embark on this new journey with you and look forward to building trust. We will be reaching out again soon with more information as the Program progresses.
To enhance transparency and communications, each community will be able to track service updates, program progress, and any changes to mitigation measures via a customized Service Area Playbook. Each playbook will identify the communities within a given service area, will detail important community events, and will show current gaps in service along with target service levels and the vessels compatible to serve those areas. Communities will be able to provide comments and feedback to DOT&PF via the Service Area Playbook platform.
Overall, the Service Area Playbooks will be designed as a tool for DOT&PF to plan with communities and make decisions about how best to deploy additional resources (crew and vessels) to improve the overall health of the system. Service Area Playbooks will be updated regularly as DOT&PF evaluates resources and system metrics to determine if service levels need to be altered given available resources.