Strategic Investment Section collects, validates, analyzes and reports on traffic volume, class and sometimes speed data from its three Field Offices located in Juneau, Anchorage and Fairbanks. Each Field Office collects volume and class data over a large Region and then processes the data to produce Average Annual Daily Traffic (AADT), Truck Class Data, Continuous Count Station (CCS) summaries and more.
Traffic data is also used to meet Federal Highway Administration reporting requirements for the annual Highway Performance Monitoring System, Travel Monitoring Analysis System (TMAS) and the Certified Public Road Mileage (CPRM).
For more information see Alaska DOT&PF's Methodology Behind Traffic Data Collection & Statistics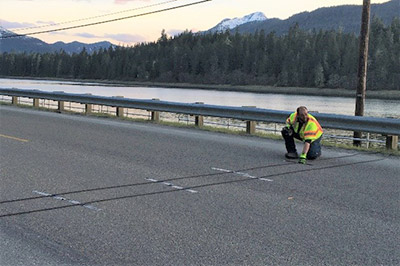 Traffic data employee setting road tubes, by Kole Koski, Alaska DOT&PF
What is AADT? Annual Average Daily Traffic (AADT) identifies the average volume of traffic for the average one day (24 hour period) during a year at a specific location. It is a calculated value derived from both continuous and short term counts that are factored for seasonality, vehicle type and day of week. The value measures how busy a road is and is a critical input parameter in many transportation planning applications. For more information on AADT and other traffic data products, see FHWA Traffic Monitoring Guide or FHWA Traffic Data Computation Method Pocket Guide.
Vehicle Miles Traveled (VMT)
Daily VMT (DVMT) on a given traffic section is determined by multiplying the Annual Average Daily Traffic (AADT) by the length of that traffic section. The individual DVMT for all road sections is summed to reach an overall DVMT for the entire Alaska Roadway system. The Annual VMT represented below for each year is calculated by multiplying the Alaska roadway system DVMT by 365. This data item is included in Alaska's annual HPMS submittal and is a factor in determining federal transportation funding levels.