Air Cargo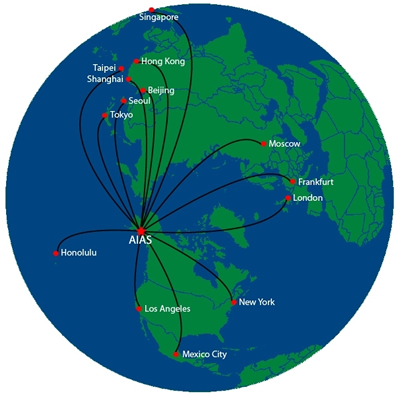 The Alaska International Airport System (AIAS) is strategically located on the Great Circle Route midway between Asia and North America. And, Alaska offers the greatest flexibility in the United States for profit-maximizing on-line and interline cargo transfer operations.
Alaska-specific air cargo regulations allow both foreign and U.S. air carriers to:
Transfer and trans-load freely and flexibly
Maximize the utility of alliance partnerships
Lower operating costs by eliminating less productive legs
Increase market penetration through partners' networks
Utilize aircraft more efficiently by eliminating beyond Alaska flights
Test market conditions without committing aircraft by utilizing code-share agreements
Bottom line: you'll optimize the profitability of any North America – Asia cargo route with a technical and/or cargo transfer/hub operation in Alaska. That's why Ted Stevens Anchorage International Airport is #2 in the United States for the landed cargo weight and #5 in the world for cargo throughput.
Alaska's geography and liberal cargo transfer rights offer carriers an unbeatable combination: less risk with higher payoffs
Questions or comments contact AIAS Staff