Juneau Egan Drive and Yandukin Intersection Improvements Project # SFHWY-00079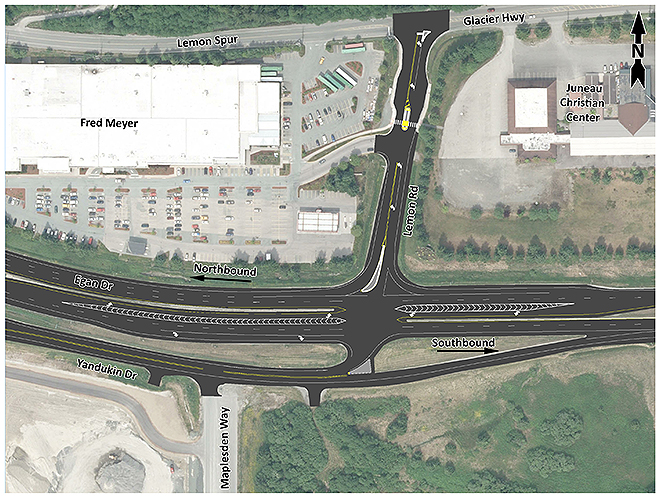 In response to concerns about safety and the need for alternate driving routes in case of accidents at the intersection of Egan and Yandukin Drives in Juneau, Alaska, the Alaska Department of Transportation & Public Facilities (DOT&PF) is planning improvements for transportation users.
PROJECT SCOPE:
DOT&PF is engaging the community of Juneau and analyzing crash history and improvement options to figure out "right-sized" improvements for the Egan/Yandukin intersection. DOT&PF is using a Planning and Environmental Linkages process to define issues associated with the intersection of Egan and Yandukin Drives, and to develop potential solutions to enhance the safety, connectivity, and reliability of the corridor as a whole. Previous traffic studies and analyses of improvements will be incorporated into the current effort.
Potential intersection improvements would address safety concerns while also operating within constraints posed by land ownership, environmental impacts, and funding availability.
PROJECT STATUS:
The final Planning and Environmental Linkages (PEL) Study report is now available.
For more details about the Egan/Yandukin Intersection Improvements Project, visit the Documents page.
GET INVOLVED:
Submit a comment or sign up for email updates: eganyandukin@alaska.gov
If you need more information, please contact us.
The environmental review, consultation, and other actions required by applicable Federal environmental laws for this project are being, or have been, carried out by DOT&PF pursuant to 23 U.S.C. 327 and a Memorandum of Understanding dated April 13, 2023, and executed by FHWA and DOT&PF. The resulting planning products may be adopted during a subsequent environmental review process.