HSIP: Chena Small Tracts Roundabout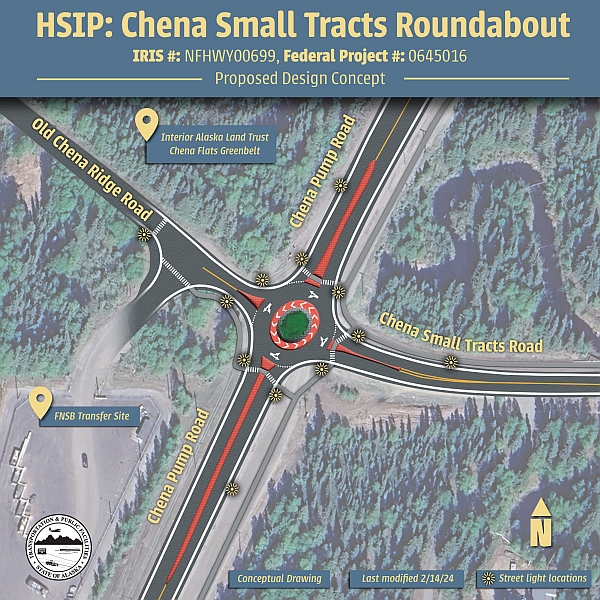 2020 FNSB Image of Chena Pump Road (running north/south) and
Old Chena Ridge Road (to the west) and Chena Small Tracts Road (to the east)
We are currently working on the design of a roundabout at the intersection of Chena Pump Road and Chena Small Tracts Road in Fairbanks in order to improve safety and reduce wait times for traffic turning from side roads. The volume of traffic through this intersection has grown in recent years, which indicated that it was time to look at ways to reduce delay and provide safe opportunities for drivers to enter Chena Pump Road from Chena Small Tracts and Old Chena Ridge.
In April 2021, we conducted a survey of area residents to gauge the neighborhood's opinion on a possible roundabout at this location. Surveys were mailed to 865 area residents near the intersection. The survey was closed in July 2021 with a total of 397 respondents. Learn more about the survey results here.
Based on the survey responses and the documented safety benefits of roundabouts, we have decided to move forward with initiating construction of a roundabout utilizing federal funding through our Highway Safety Improvement Program. Here's what led to that decision:
A strong majority of survey respondents acknowledged that intersection improvements are needed due to excessive speeds on Chena Pump Road, excessive delay on side streets, cut-through traffic on Kentshire Drive to get the signal near Justa Store, and erratic driver behavior associated with the intersection's proximity to the transition from four lanes to two lanes on Chena Pump Road.
58% of survey respondents agreed or strongly agreed a roundabout will improve safety and congestion at the intersection.
A traffic signal is not an ideal solution because new traffic signals can increase rear-end crashes and numerous survey respondents commented they did not favor a signal.
Roundabouts cause less delay than signals overall and reduce the potential for serious crashes. Read more about roundabouts here.
A roundabout would allow for safer crossings for bicycles and pedestrians, as there are no existing crosswalks.
What happens next?
We have begun the design phase for this project, which will include additional opportunities for you to provide input. We expect to begin construction on this roundabout in 2025. Please reach out to the project team if you have questions, comments or want to stay updated about this project.