Damalanche
On January 24, 2014, after nearly 12 inches of rain and abnormally high temperatures that week, the snow around Thompson Pass began to shed, resulting in a series of both large and small avalanches. The avalanches blocked the Richardson Highway near the end of Keystone Canyon, cutting off ground access to Valdez. Luckily, no one was injured in the early morning slides.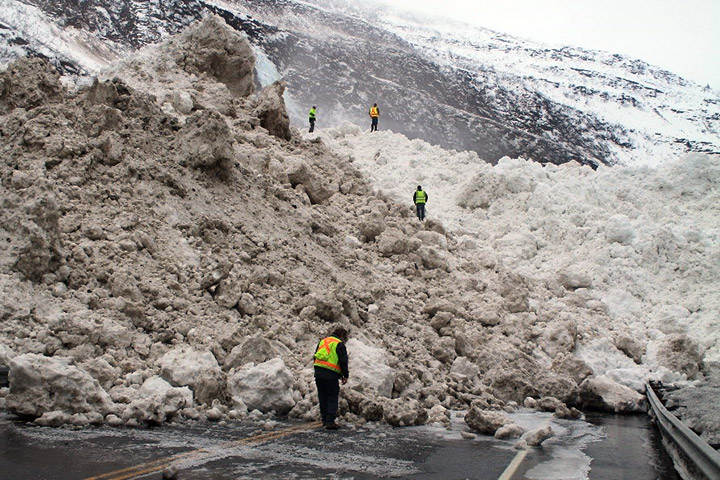 Maintenance staff inspect the avalanche debris at Snowslide Gulch, Richardson Highway mile 16, on January 28, 2014. Photo by Robert Dunning, DOT&PF
This epic slide also dammed the Lowe River, submerging a large section of the Richardson Highway under a lake 30 feet deep, half-a-mile long, and ultimately containing an estimated one billion gallons of water. The blockage was dubbed the "damalanche" by locals, as it was both a dam and an avalanche.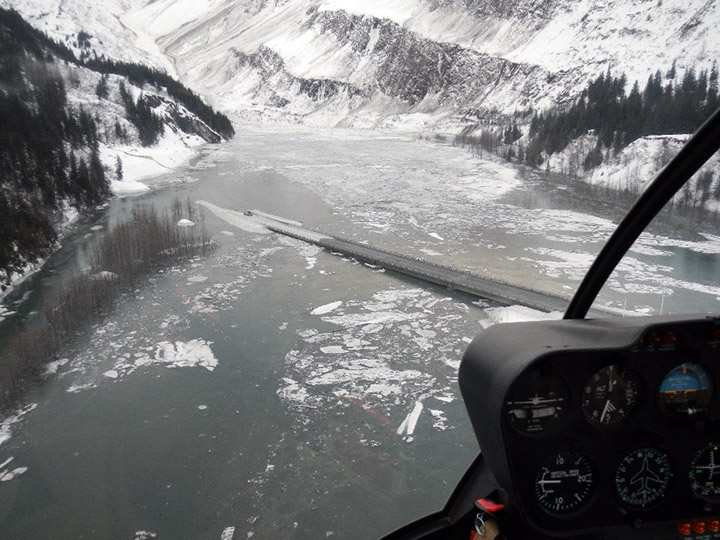 Snowslide Gulch at mile 16 on the Richardson Highway, north side of damalanche on January 28, 2014. Photo by Robert Dunning, Alaska DOT&PF
Alaska DOT&PF maintenance forces are well-seasoned in cleaning up after big events, including avalanches. But damalanche was something else entirely. Several thousand feet of the highway was covered in snow that was as high as four telephone poles stacked on top of each other.
Maintenance crews were not able to start clearing the avalanche debris right away. The massive lake prevented crews from accessing the snow from the north, and the snow from the south was holding the water in place, so it could not be removed either. It took a week for the water to find its way back to its river channel before crews could begin debris removal work.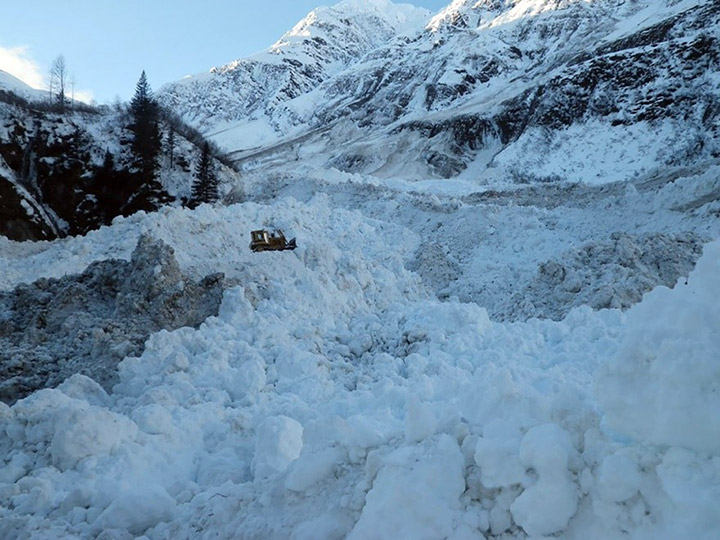 Richardson Highway damalanche cleanup, January 2014. Photo by Alaska DOT&PF staff
DOT&PF brought in staff from around the state, as well as local contractors, to remove the 200,000 cubic yards of snow, working 24 hours a day for five days. Work started from the top of the snow pile as workers used heavy equipment to move the snow down before it could be pushed aside and removed from the highway. When all the snow and debris was removed, the highway saw little more damage than some guardrail that needed to be replaced.
Watch the video below for some amazing footage and stories from this epic event.
More Resources
Map of Avalanche Area (Click for full size)