Maintenance on the Dalton Highway
Alaska DOT&PF operates seven year-round maintenance camps along the Dalton Highway corridor. Each camp is open seven days per week from 6 a.m. to 5:30 p.m. and has an average of two to three operators working at a time. Each maintenance station covers about 60-70 miles of road. Alaska DOT&PF currently invests approximately $16.5 million in maintenance operations on the Dalton Highway each year. About $10.5 million of this is state funding and about $6 million is federal funding (as of Alaska state fiscal year 2019). Our department also invests construction funding into the Dalton Highway in order to reduce our maintenance burden and improve conditions on the highway.
Current road condition information for this route and others around the state can be found through our 511 Traveler Information system.
Maintenance Camps
Staff from each of the seven maintenance camps on the highway cover between 60-70 miles of road, but will work on special projects and under special circumstances in other sections. Our crews typically work week-on, week-off shifts and reside in the camp during their shifts. Wednesdays are the usual shift-change days, although that can be complicated by difficult weather and cancelled flights.
The list below shows the location of each camp, the average number of operators at each camp when fully staffed, and the area each camp covers. Please note that Livengood camp also maintains 82 miles of the Elliott Highway and Deadhorse camp also maintains the Deadhorse airport.
| Camp Name | Approximate Camp Location | Area of Maintenance Responsibility | Average Number of Operators |
| --- | --- | --- | --- |
| Livengood | Livengood Road | Miles 0-28 | 3 |
| Seven Mile | Dalton MP 62 | Miles 28-100 | 2 |
| Jim River | Dalton MP 138 | Miles 100-156.2 | 2 |
| Coldfoot | Dalton MP 175 | Miles 156.2-209.2 | 2 |
| Chandalar | Dalton MP 239 | Miles 209.2-284.5 | 3 |
| Sag River | Dalton MP 305 | Miles 284.5-356 | 3 |
| Deadhorse | Deadhorse Airport | Miles 356-414 | 4 |
Road Condition Updates and the 511 System
The primary source of road condition information for the Dalton Highway and all other state-maintained roads in Alaska is the 511 Traveler Information System. The current system used by the State of Alaska was launched on December 27, 2019. It is available on the website 511.alaska.gov, which can be accessed on a computer or in a mobile-friendly version on your phone or tablet. Mobile users can also download the 511 Alaska app from the iTunes or Google Play stores. Travelers can also call 5-1-1 from any phone in Alaska for a road report.
Travelers can expect road condition information to be updated by 8 a.m. every weekday morning in the winter. Conditions will be updated on weekends if they are difficult or worse. Conditions will also be updated later in the day if conditions change.
DOT&PF also operates three programmable message boards to communicate road conditions to Dalton Highway travelers. One board is located in the community of Fox, just north of Fairbanks, at the junction of the Steese and Elliott Highways. Two other message boards are located on either side of Atigun Pass and are most frequently used to communicate pass conditions, including avalanche activity.
Why aren't conditions updated more frequently?
The Dalton Highway currently has no cell phone reception and low-speed Internet and phone lines are only available at each maintenance camp. That means operators must drive the road to learn about conditions, return to the camp, and call into the Fairbanks office to have them entered into the 511 system. Operators then go back out on the road to begin work. They are often many miles away from the camp while working, and it is impractical for them to return to the camp to update conditions multiple times a day.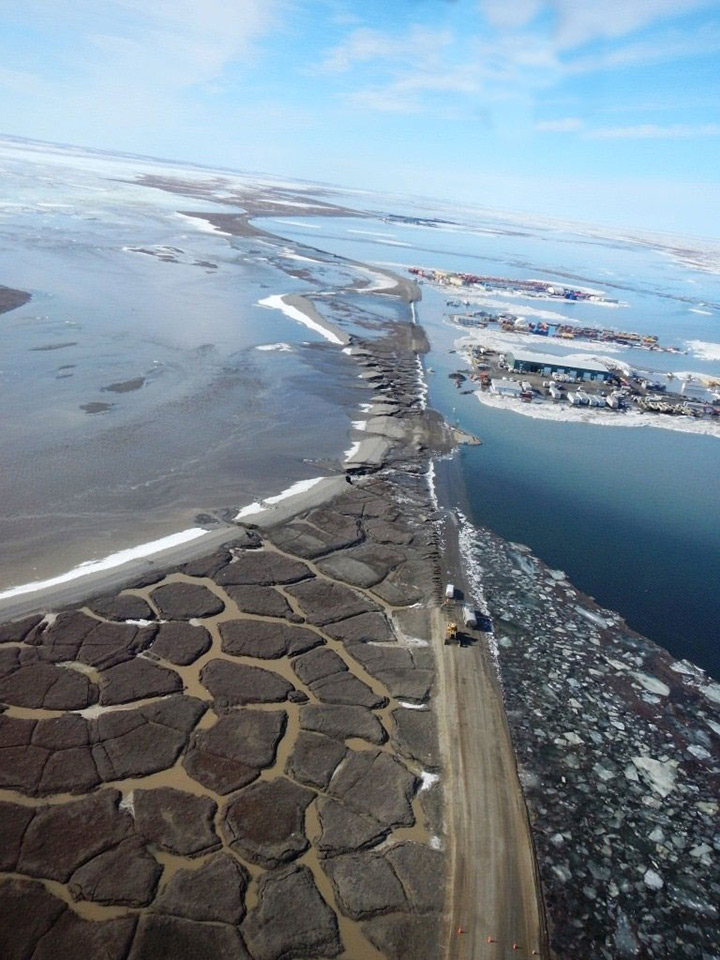 Catastrophic flooding in 2015 shut down the Dalton Highway for 28 days, prompting two state disaster declarations to be issued. Photo taken in May 2015 by Alaska DOT&PF staff
The administrative staff who enter the 511 conditions into the system work standard hours on weekdays—we do not have a 24/7 traffic operations center. In order to avoid paying overtime each weekend, administrative staff are only called to enter road condition information on weekends when conditions are difficult or worse.
The lack of connectivity on our remote highways, and especially on the Dalton Highway, make it difficult to update the traveling public to the degree and with the speed that most travelers expect. We are continuing to explore new processes that can improve how we report road condition information without overly burdening our maintenance staff. In the meantime, we encourage you to explore the additional features on our 511 site, including road cameras and weather forecasts from the National Weather Service, to compliment the conditions entered by our staff.
Maintenance Challenges
Maintaining remote infrastructure is always a challenge, but maintaining remote infrastructure on delicate permafrost-covered Arctic tundra is even more of a challenge. In addition to the unique logistical and engineering considerations, the State of Alaska has seen deep budget cuts since 2015 that have further reduced our ability to provide the level of service expected by drivers.
As state funding has decreased, Alaska DOT&PF has tried to compensate by leveraging available federal funding. Federal funding, however, comes with more restrictions. We can only use that money on activities that preserve our infrastructure and prevent further maintenance, like asphalt surface treatments or calcium chloride that helps keep fine materials from blowing away on gravel roads. Activities like pothole repair, grading gravel surfaces, and snow plowing are not eligible for federal funding, which means they must be funded by the state. This also means that cuts to our state maintenance funding primarily affect those essential activities.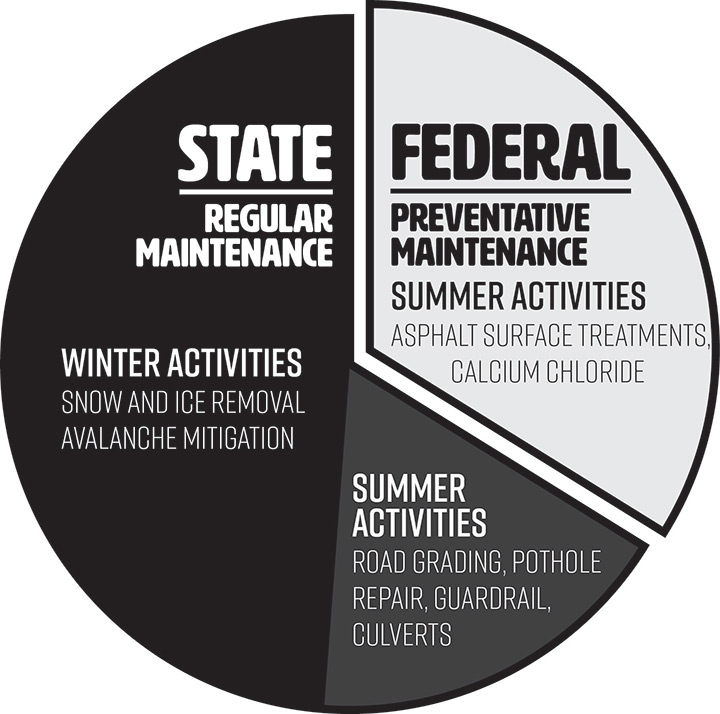 In addition to dwindling state funding, the warming Arctic climate has increased our maintenance challenges. We are seeing rivers and streams flood that have never flooded before. We are seeing increased rainfall that is making it difficult to maintain our unpaved surfaces. (We cannot grade the road surface when the road materials are saturated.) We are also regularly seeing temperatures above freezing in the winter, which can create hazardous icing conditions on our roads and runways that would have been extremely rare in previous decades. All of these challenges increase our maintenance costs and decrease the quality of road conditions.