Haines Airport Rehabilitation & Snow Removal Equipment Building
State/Federal Project No.: SFAPT00234/3-02-01120 | SFAPT003367/3-02-0221-XXX-2025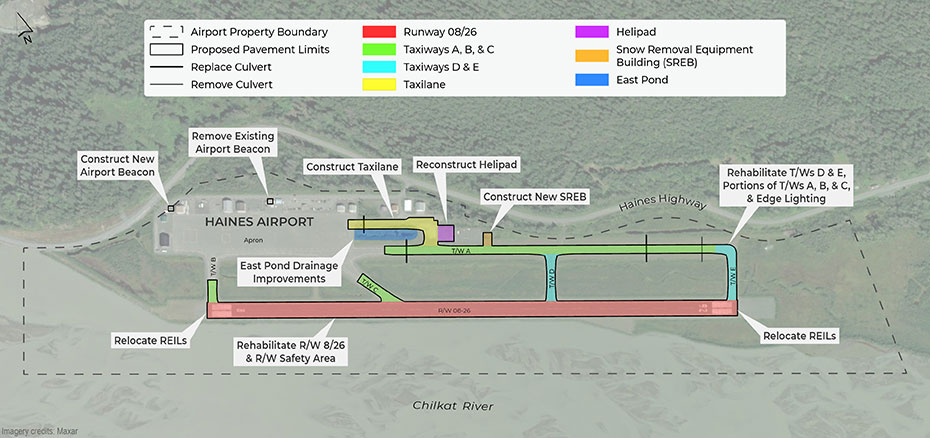 What's New
The DOT&PF will be holding public open houses at two different locations. Please join us at the location that is most convenient for you.
Thursday, September 28, 2023
5-7 p.m.
Haines Public Library
111 3rd Avenue, Haines, Alaska
Friday, September 29, 2023
10 a.m.-noon
Jilkaat Kwaan Cultural Heritage Center Hospitality House
9 Chilkat Avenue, Klukwan, Alaska
---
The Alaska Department of Transportation & Public Facilities (DOT&PF), in cooperation with the Alaska Division of the Federal Aviation Administration (FAA), is proposing to rehabilitate the Haines Airport. Proposed work may include:
Rehabilitate Runway (RW) 08/26
Rehabilitate Taxiways (TW) A, D, E, and portions of TWs C and B
Construct a taxilane between the edge of the general aviation apron and helipad
Reconstruct helipad
Improve drainage including modifications to existing culverts and ditching
Replace edge lighting, airfield direction signage, conduits, and electrical conductors
Replace and relocate the airport rotational beacon
Construct a snow removal and equipment building (SREB)
The purpose of the project is to extend the service life of the Haines Airport, improve safety for aircraft operations and taxiing, improve airport access, and improve drainage.
The project team is currently working on preliminary design and environmental analysis. An Environmental Assessment will be completed for this project per the FAA's National Environmental Policy Act guidance.
---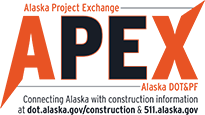 Use DOT&PF's Alaska Project Exchange tools to learn more about all of DOT&PF's active construction projects statewide!
Want to know how construction will impact road traffic? Visit 511.alaska.gov
Want to dig into the details about projects across the state? Visit dot.alaska.gov/construction