Nenana Totchaket Road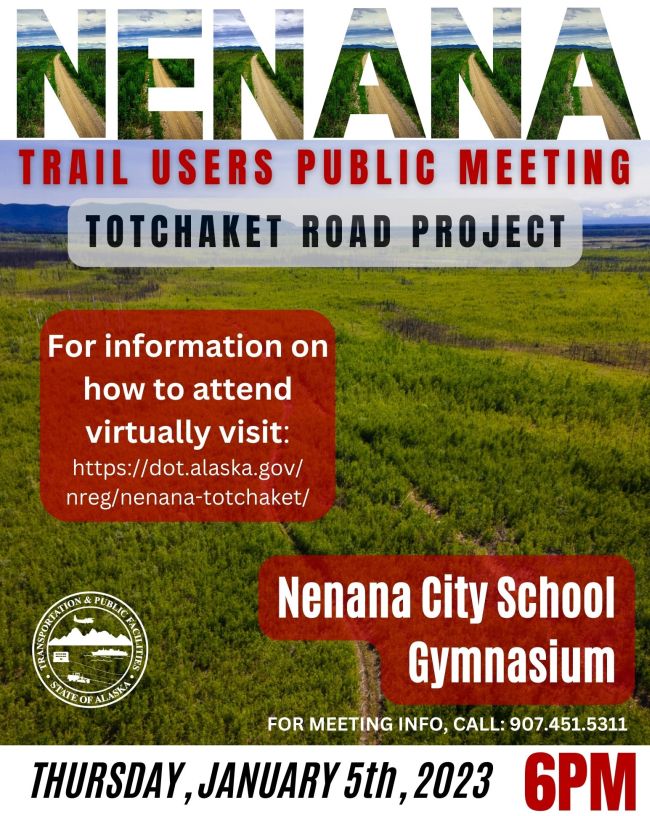 The Alaska Department of Transportation and Public Facilities in cooperation with contractor Brice Ltd. are proposing to construct the Nenana-Totchaket Road from the Nenana River to the Kantishna River. The project will include improving approximately 12 miles of existing road and constructing 19 miles of new road.
Construction of the existing 12 mile Totchaket Road and associated bridges was a collaborative effort between multiple local stakeholders, including the City of Nenana, the Nenana Native Association (Tribe), the Toghotthele Corporation, and Doyon, beginning back in 2009. The Nenana River Bridge was completed in 2020 through a closer partnership between The Tribe and City, thereby opening up the Totchaket area to public access year round.
The proposed Nenana-Totchaket Road Project will support additional food security to Alaskans by improving access to agricultural development, as well as increased public access for hunting and fishing in the region.

Nenana-Totchaket from Alaska DOT&PF on Vimeo.
THE EXISTING ROAD
The existing 12 mile Totchaket Road is anticipated to undergo re-leveling in areas that have experienced settling, flattening of embankment side slopes, resurfacing, and clearing of vegetation. DOT&PF is proposing to replace or rehabilitate three bridge crossings (East Middle, West Middle, and Little Nenana Rivers), construct an armored high water crossing in a seasonal flood area, and improve drainage through culvert replacement and ditch work. Existing turnouts will also be improved, as well as the construction of new turnouts as needed to support construction.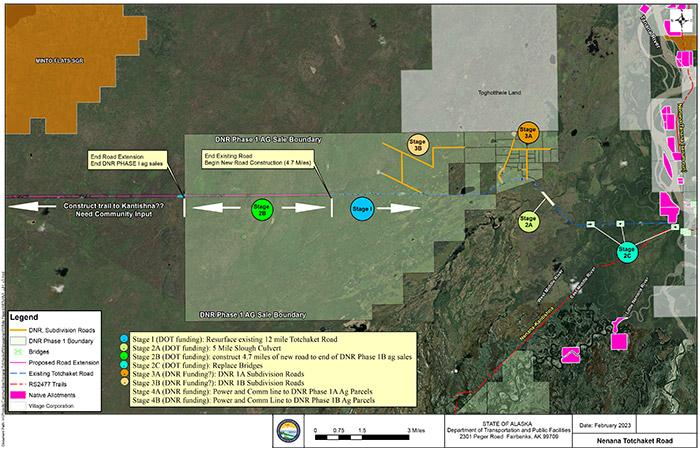 Click for larger image.
THE NEW ROAD
Approximately 19 miles of new road are proposed to be constructed beginning at the end of the existing Totchaket Road, extending westerly towards the Kantishna River. The road will be constructed with an average top width of 18'.
The first 15.7 miles of new road extension will be built within the City of Nenana's existing 500' wide public right of way easement. A new right of way easement will be acquired for the remaining 3.3 miles of proposed road. This westernmost section of proposed road extension will travel northwesterly, gradually descending approximately 3.3 miles down to the Kantishna River, where the road will terminate at a ramp down to the river.
We've created an interactive map to show you the environmental data that we are collecting:
WHY EXTEND THE ROAD?
Decades ago, the Nenana-Totchaket area was planned as a farming project, but limited access to the region stalled progress. Since then, renewable resources like agriculture, have become more viable as growing seasons are changing in an evolving Arctic environment. A road from Nenana-Totchaket will support food security from Alaska's own soils by creating access to a region abundant in natural and renewable resources. The road will also support the auction of agriculture lands by the Alaska Department of Natural Resources.
In 2018, the Nenana Native Association, in partnership with the City, was awarded a $9 million federal grant to fund the Nenana-Totchaket Bridge. After administering the grant, which was intended to help members of the community thrive, the Native association oversaw construction of the 450-foot bridge over the Nenana River. The new bridge was the key to unlocking the development of millions of acres of land owned by the State, Alaska Native Corporations, and the University of Alaska.
The road extension will also allow for increased hunting, fishing, and subsistence opportunities to the public.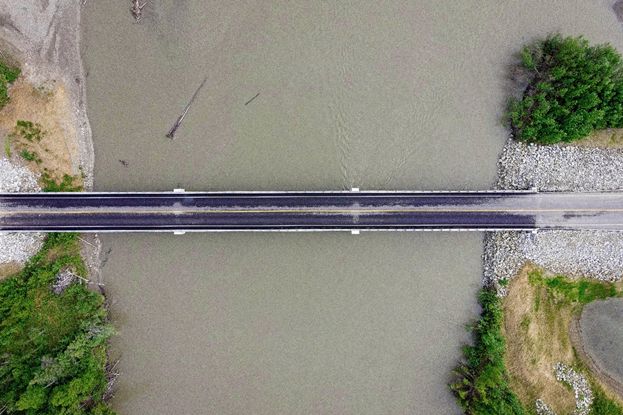 The existing road to Totchaket consists of 5 bridges.
TIMELINE OF CONSTRUCTION
Construction is being advanced in stages through a CMGC contract, which allows DOT and the Contractor to actively engage with agencies and stakeholders to stage work in a collaborative way.
Below is a high-level summary of the construction sequencing plan. Contact the Project Manager directly for details.
Stage 1: Stage 1 is anticipated to begin in late Fall 2022 and is anticipated to include improvements to the existing Totchaket road, including:
Brush clearing to improve site distance, safety, and reduce snow drifts.
Resurfacing the existing road and turnouts
Fixing areas of the existing road experiencing rutting
Stage 2: Stage 2 is anticipated to begin in late Winter 2023 and continue through Summer 2023
Bridge work associated with the Little Nenana, East Middle and West Middle River crossings.
Construct new drainage structures at 5 mile slough.
Stage 3: Stage 3 work is anticipated to include new road construction to the Kantishna River. This work may be authorized to begin as soon as Spring 2023, as funding allows.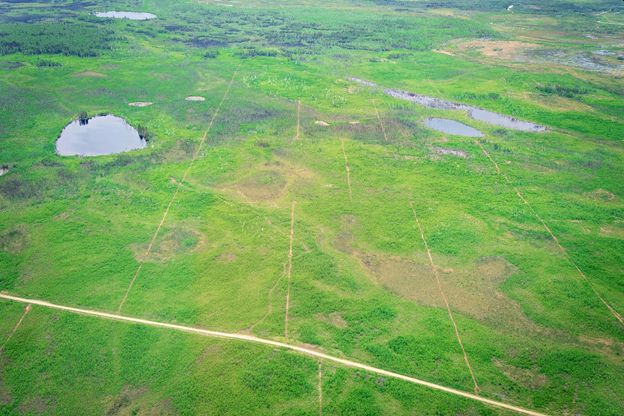 The existing Totchaket Road will be resurfaced and widened,
while the new road will follow higher ground to avoid wetlands.
INNOVATIVE SOLUTIONS TO A BIG CONSTRUCTION PROJECT
This project is using the Construction Manager/General Contractor (CMGC) delivery method — this method allows for greater innovations in design and the ability to plan the construction to find inefficiencies and cost savings as the project progresses.
Some of the key advantages to the CMGC procurement method include:
Selecting a contractor early on in project development in order to assist in the design, environmental, and public involvement processes;
Encourage use of innovative methods and materials;
Enhance the constructability and value of the project to the public; and
Encourage local stakeholder engagement during design and through construction.
TIMELINE OF OUTREACH
Scoping Date: 12/23/21
End of Scoping: 1/23/22
Local stakeholders scoped: Doyon, Tanana Chiefs Conference, Toghotthelle Corp, Nenana Traditional Council, Nenana Native Association, Nenana City School District, and the City of Nenana were scoped.
Comments were received from: Department of Environmental Conservation-Division of Air Quality, Alaska Department of Fish & Game, United States Fish and Wildlife Service, Alaska Railroad Corporation, Department of Natural Resources-Division of Forestry, Department of Natural Resources-Division of Mining, Land and Water, City of Nenana, and United States Coast Guard.
Alaska Historic Preservation Act (AHPA) consultation was initiated on 1/12/22
Letter of support received from Doyon.
DOT presented the Totchaket Road project at the DNR organized Nenana Ag Day on 6/10/2022.
Public Meeting held in Nenana 9/10/2022.
Toghotthele members began working with DOT&PF to support brush clearing for environmental studies.
Outreach to local stakeholders for participation prior to September 12-18, 2022 cultural studies.
On 9/13/22, DOT&PF updated the City Council on the status of the project in person.