Ward Creek Bridge 747 Replacement
Project # SFHWY00160
The Alaska Department of Transportation and Public Facilities (DOT&PF) is proposing to replace Ward Creek Bridge (Bridge Number 747) and reconstruct roadway approaches along North Tongass Highway at Mile Post (MP) 11 in Ketchikan, Alaska. The project is located in Township (T) 74S, Range (R) 90E, Section (S) 34, United States Geological Survey Quadrangle Ketchikan B-6 NE Copper River Meridian.
The Ward Creek Bridge was constructed in 1975 and is approaching the end of its useful life. The project purpose is to replace the bridge since it has a poor condition rating and is structurally degrading. The north abutment is experiencing settlement issues causing cracks to form in the pile caps. The replacement of the Ward Creek Bridge No. 747 is needed to ensure the structural integrity and stability for the traveling public.
The proposed project would:
Replace the existing Ward Creek Bridge No. 747
Reconstruct associated approach roadway
Repair embankment and riprap
Install new approach guardrail
Construction is estimated to begin in 2026 and is anticipated to last two seasons.
View the project vicinity maps here.
---
The environmental review, consultation, and other actions required by applicable Federal environmental laws for this project are being, or have been, carried out by DOT&PF pursuant to 23 U.S.C. 327 and a Memorandum of Understanding dated April 13, 2023, and executed by FHWA and DOT&PF.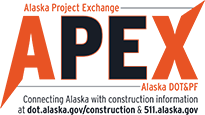 Use DOT&PF's Alaska Project Exchange tools to learn more about all of DOT&PF's active construction projects statewide!
Want to know how construction will impact road traffic? Visit 511.alaska.gov
Want to dig into the details about projects across the state? Visit dot.alaska.gov/construction