South Tongass Highway Rehabilitation: Deermount Street to Surf Street
Project Description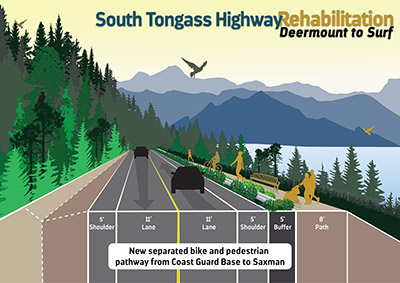 The Alaska Department of Transportation and Public Facilities (DOT&PF)1 is working to rehabilitate about three miles of South Tongass Highway and related non-motorized facilities from Deermount Street to Surf Street.
The South Tongass Highway Rehabilitation project would improve operations and provide improved movement of vehicle, bicycle, and pedestrian traffic.
Status
March 2023: Controlled blasting will occur within the areas shown here.
September 2021: The South Tongass Highway Reconstruction project remains a high priority for DOT&PF. Design is nearing completion, and the project is in the right-of-way (ROW) phase.
Improved Pathway
The project features a much-improved pedestrian and bike pathway reaching roughly 3 miles from the United States Coast Guard base in Ketchikan to Surf Street in Saxman. This new path, the Joseph C. Williams, Sr., Kee-Nax Coastal Trail, will provide residents and tourists with a multi-use path for walking and bicycling. The 8-foot-wide path will connect to the existing path that continues south to Mountain Point. In addition to expanding and improving the pedestrian and bicycle corridor, the new path will be ADA-compliant.
Attractions along the path include views of the Tongass Narrows and Saxman Totem Park and connections south to Rotary Beach Park. Existing benches will be salvaged and reinstalled.
Project Progress
Project permitting is underway, with fish habitat permits secured.
ROW acquisition is progressing. There are many ROW tracts to acquire and ROW encroachments to resolve. Per federal law under the Uniform Act, the ROW process must follow certain procedures and is not easily accelerated. Before this federal-aid project goes to bid, DOT&PF is required to complete all property acquisitions and clear or permit all encroachments within the ROW.
Property owners affected by property acquisitions will be assigned a ROW agent to facilitate the negotiation process. If you have questions about encroachments or permits, please visit http://southtongassrow.com/.
The project is developing construction phasing and traffic control plans that minimize impacts to highway users while DOT&PF rebuilds the highway in a timely manner within the project's budgetary constraints. Due to the narrow corridor and seasonal construction constraints, some unavoidable impacts to traffic flow will occur.
The construction schedule will fully comply with environmental permit conditions. These conditions restrict work near three eagle-nesting trees during the nesting and fledging season from May through August. Permit conditions also restrict work within Saxman Creek.
The South Tongass improvements are fully federally funded. It is currently anticipated that construction will start in 2026. Most of the construction work should be completed in two seasons. Some minor tasks such as signing and striping may extend into a third construction season. The construction start dates are contingent on the completion of ROW tasks, acquisition of required permits, and other factors.
The Design Study Report is available here.
Other Road Improvements in the Project Area
Temporary pavement overlays were applied to portions of South Tongass last summer, and those are expected to provide smooth driving surfaces for several more years.
Under a separately funded safety improvement project, the intersection of Deermount and Stedman Streets is being upgraded with improved intersection lighting and a wider, more pedestrian-friendly sidewalk on the water side of the intersection.
Please check this project website regularly. We will update information as the design progresses.
1. The environmental review, consultation, and other actions required by applicable Federal environmental laws for this project are being, or have been, carried out by DOT&PF pursuant to 23 U.S.C. 327 and a Memorandum of Understanding dated April 13, 2023, and executed by FHWA and DOT&PF.