King Salmon Airport Runway 18-36 Rehabilitation
Project # SFAPT00362
The Alaska Department of Transportation and Public Facilities (DOT&PF), in cooperation with the Alaskan Region of the Federal Aviation Administration (FAA), is proposing to rehabilitate the pavement surfaces of Runway 18-36 at the King Salmon Airport.
Purpose & Need
Rehabilitation of Runway 18-36 needs to occur to keep King Salmon Airport in compliance with FAA regulations and to continue operating safely. Runway 18-36 pavement is beyond its useful life and a correction to the aligned taxiways are needed. Transitions to Taxiways C, G & N would be considered, as needed.
Project Description
The proposed project would:
Rehabilitate, repave, groove and stripe Runway 18-36
Rehabilitate, repave, and stripe partial Taxiways C, G and N, as needed
Rehabilitate, repave, and stripe blast pad
Adjust existing lights along Runway 18-36 and Taxiways C, G and N, as needed
Depending on the method used to rehabilitate the surfaces, about 15,000 cubic yards of materials, or 2,800 dump trucks loads may need to come from a local material source. Construction is anticipated to take place in 2024 to 2025.
Status
The project is in the conceptional design phase. DOT&PF is seeking input from airport users and the public. The DOT&PF design team hosted a public open house on August 10, 2023. Graphics from this open house are provided on the Documents page. Additional comments are being accepted on the Public Involvement page.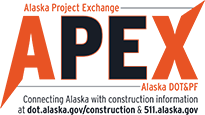 Use DOT&PF's Alaska Project Exchange tools to learn more about all of DOT&PF's active construction projects statewide!
Want to know how construction will impact road traffic? Visit 511.alaska.gov
Want to dig into the details about projects across the state? Visit dot.alaska.gov/construction