Selawik Barge Landing Access Road and Boardwalk Improvements
Project No. 0002280/Z637720000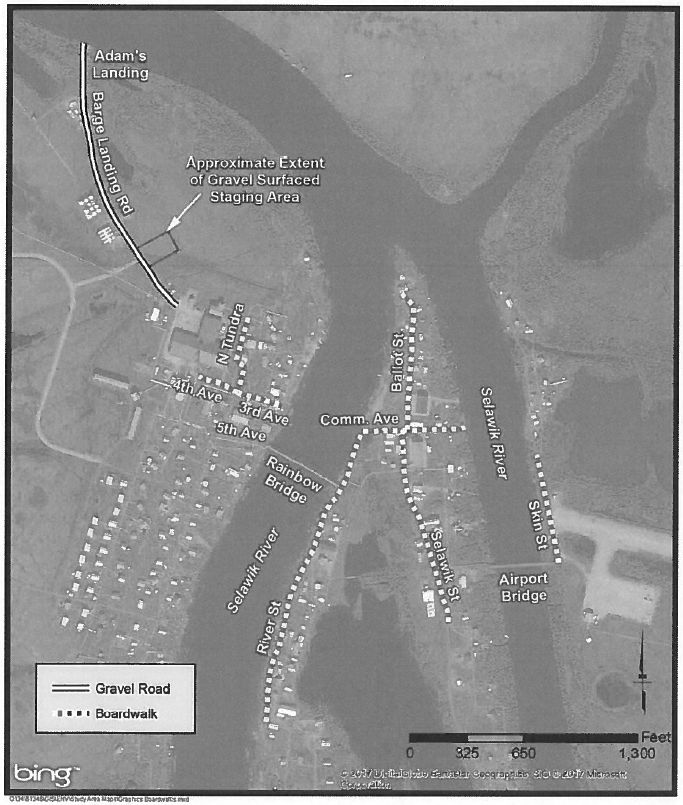 Caption: Project limits map.
We are working to rehabilitate the Barge Landing Access Road and Boardwalk.  Project will include construction of a new barge staging pad and associated access points, roadside hardware, and utilities.
The purpose of this project is to address structural, maintenance, and safety concerns associated with the Barge Landing Access Road, barge landing staging area, and community board-roads.
The Barge Landing Access Road is uneven, rutted, and ponding in some areas. The staging area is in poor condition and is insufficiently sized for adequate storage and equipment maneuverability. This project addresses these concerns by reconstructing the Barge Landing Access Road and upgrading and expanding the staging area. Lighting and fencing around the staging area will also be provided to deter vandalism and enhance security and safety.
Many of the board-roads in Selawik are in a state of disrepair, are at or past the end of their useful life, may be contributing to crashes, and are difficult for ATVs to continue use. To improve board-road transportation, the board-road streets listed below will be replaced
Work on this project includes:
Barge Landing Access Road and Staging Area
River Street
Community Avenue
Ballot Street
Selawik Street
Skin Street
North Tundra Street
Fourth Avenue
Our project staff is currently working on preparing for upcoming construction. Construction on this project is expected to begin in July 2023.
Additionally, this project will revegetate, stabilize and protect the river bank under the rainbow bridge with layers of COIR fabric rolls and planting approximately 17,000 willows.
Some utility work will also occur including replacing a number of utility poles and new OTZ and GCI facilities (wire/cables).
This project is being constructed in cooperation with the Alaska Division of the Federal Highway Administration, the City of Selawik and ASRC SKW Eskimos Inc.