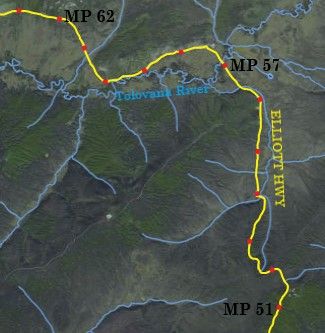 A graphic showing the section of the Elliot Highway
to be rehabilitated. Mileposts are marked by red dots.
The purpose of the project is to reconstruct the road to increase serviceability and reduce maintenance costs. This is needed because the road is in an advanced stage of deterioration and is a serious maintenance burden.
Sections of the Elliott Highway between milepost (MP) 51-63 are in particularly poor condition. Frost heaving and thawing of the underlying permafrost are posing significant maintenance challenges in particular sections. This project will rehabilitate the Elliott Highway, including the Tolovana River Bridge #0440. Some segments require major rehabilitation and some require embankment reconstruction as reflected in poor pavement condition.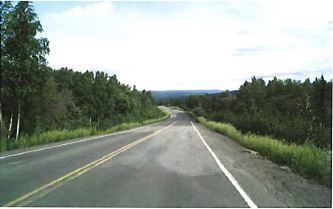 A photo of a section of the Elliott Highway that will
be rehabilitated through this project. DOT&PF photo.